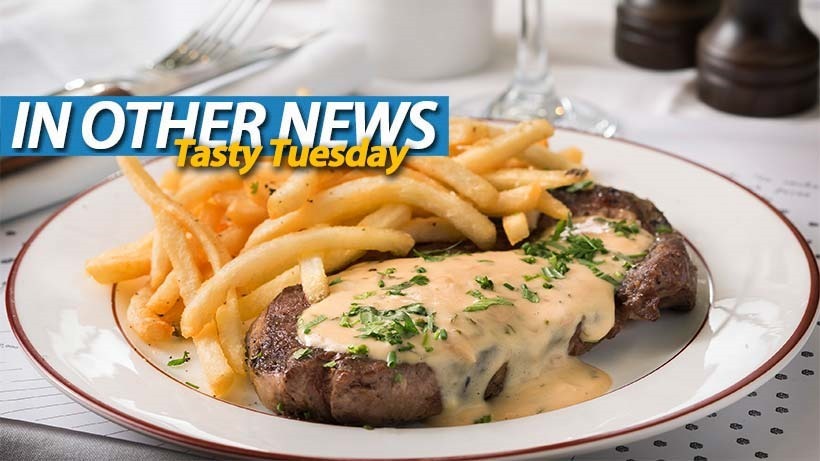 There's a pretty famous Parisian dish, one that food gurus and restaurateurs have made their name on. One example is Les Halles, where "bad boy" celebrity chef Anthony Bourdain served as head chef. It's called Steak Frites – but really what it is a fancy name for steak and chips.
Sure, it may be served au poivre if you're feeling really fanciful, but it is, at its heart, a simple thing. Simple, yet satisfying – and exactly what I'll be having for dinner tonight. I'll be making my own fries, following a recipe that sits somewhere between Les Halles' ones and Heston's triple cooked chips. And because this is SA, I'll be putting an egg on top.
Here's the news we didn't post because we were too busy wondering what on earth to do while Twitter was down.
News:
Xbox Live deals: Killer Instinct, Sniper Elite, Persona 4, Roundabout, more
Rocketbirds: Hardboiled Chicken sequel coming soon
Destiny weekly reset for January 19 – Court of Oryx, Nightfall, Prison of Elders changes detailed
You can now import the original Rock Band into Rock Band 4
Xbox 360 disc scratching case makes it all the way to the US Supreme Court
Microsoft says next-gen CPUs will not be supported on Windows 7
PlayStation Plus subscribers given a free day as outage apology
Martial arts MMO Blade & Soul launches today
Stuff
How one of Japan's biggest games was created
What does Diablo 3's new patch offer for the end-game player?
We get it Elf, you vape
Alexis Kennedy on: Gravity
Videos
A message from NieR: Automata devs
Grand Kingdom Western announcement trailer
What's on at The Movies
ASSASSIN'S CREED film has finished shooting; Michael Fassbender talks about his character
Tim Curry to return to new ROCKY HORROR remake
Do you want to know more? Nine featurettes on the making of THE REVENANT
DVD Review: SELF/LESS
Ronda Rousey and Tina Fey teaming up for comedy DO NOTHING BITCHES
Netflix reportedly developing PUNISHER spinoff for Marvel
The master has returned in this new trailer for IP MAN 3
Neil Patrick Harris set to play Count Olaf in Netflix's A SERIES OF UNFORTUNATE EVENTS
Last Updated: January 19, 2016