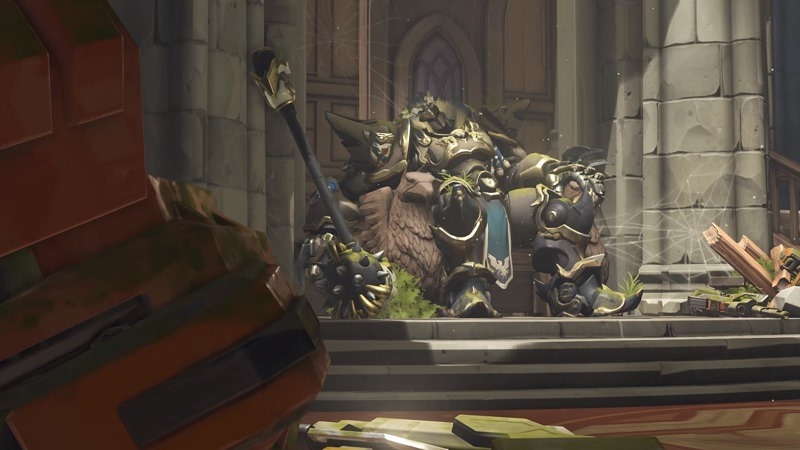 Gamescom is underway over in Cologne – a beautiful city in Germany. Meanwhile, in Overwatch land, a new map called Eichenwalde has just been announced. Its location? Germany. Coincidence? I think not!
It looks like an epic map too, if the trailer is anything to go by. Did I mention that Eichenwalde features a giant castle? Because it does, and HOLY CRAP IT LOOKS AMAZING! Here's a sneak peek…
Revealed at Gamescom 2016, Eichenwalde is an Assault/Escort hybrid map set in an abandoned village on the outskirts of Stuttgart, Germany.

The site of one of the most famous battles during the Omnic Crisis, it was here that the leader of the Crusaders, Balderich von Alder, and a handful of his best soldiers made a last stand against an advancing automaton army. Outnumbered and outgunned, they were ultimately slain during the resulting combat. However, thanks to their valiant efforts, the German military was able to push back the omnic offensive and win the fight.

On this map, one team must escort a battering ram to Eichenwalde Castle to reclaim Balderich's remains from their current resting place, while the opposing team does everything in its power to thwart the keep from being breached.
What I'm most interested to find out, actual gameplay aside, is what lore Eichenwalde holds. Yes, the description above tells quite the tale, but what Easter eggs does that towering structure hide? I'm excited to find out!
I won't have to wait long thankfully. Eichenwalde will be out next month. I expect it'll ship around the same time Overwatch's second season kicks off.
I have a feeling that Bastion's animated short will tie into the new map somehow too. That'll be out later this week, on Thursday.
And lastly, how can I not say anything… WHERE THE HELL IS SOMBRA? I really expected the Blizzard conference to contain at least a sliver of a clue. Sadly, there was nothing (unless I'm completely blind – which may well be the case). Will we see her, or at least a hint of her character in Bastion's animated short, or in Eichenwalde itself? I bloody hope so!
Last Updated: August 16, 2016