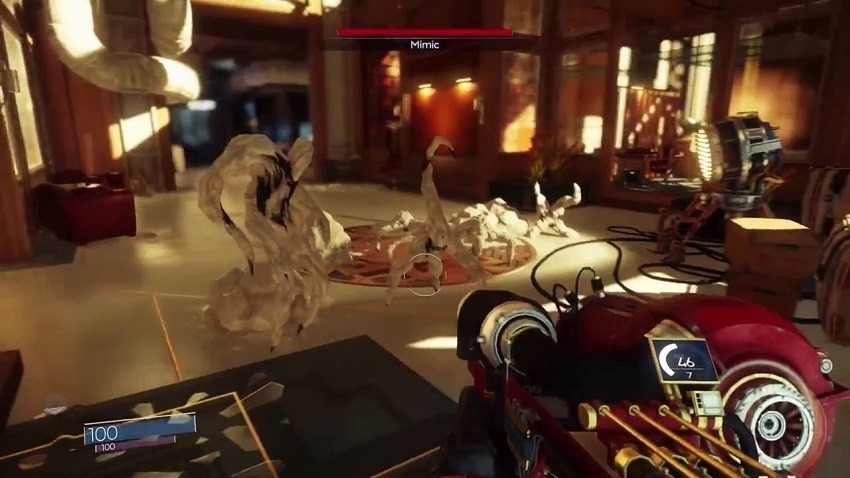 Prey is probably the farthest thing from the bounty-hunting sequel that it may have started as, but judging from the recent deluge of trailers I'm inclined to not mind that one bit. Arkane Studios are injecting a lot of their other game influences into this tense sci-fi action title, with protagonist Morgan Yu coming off as a space-trapped Corvo at times. Prey's Tyhoon aliens will allow you to wield some devastating powers throughout the adventure, but it's the way you use them that really opens up Prey's combat options.
Much like the combination of Plasmids in BioShock, Prey will reward creativity if you choose to experiment with your weapons and powers in equal measure. A new gameplay snippet for the title runs through a bunch of these. You could encase a foe using the Gloo Gun, only to raise and smash them with some psychic powers a moment later. You could trick a foe into leaping at you, only to make yourself into a thick plume of smoke and set up a fire trap on the other side.
There's also a funny gadget at the end that seems to suck in enemies and spit out confetti. Not sure what type of parties they were throwing on this space station.
Prey is fast approaching too, with Bethesda aiming for May 5th to relaunch a franchise that has been lost in the abyss for years now. With Arkane at the helm it's evident that Prey is here to try and stay this time, even if it leans heavily into some Dishonored territory. But with the eerie Dead Space vibes and open-ended combat, fans from Arkane's previous franchise should feel right at home here. While fans of the original Prey should appreciate the game's more dire setting.
Prey is out next month for Xbox One, PS4 and PC.
Last Updated: March 29, 2017