ESEA launched last year to a much anticipated local crowd. In it's initial launch phase we saw South Africa being invited to the ESEA Pro League in Poland, but the team was unable to attend due to conflicting schedules and the inevitable Visa issues which often come with such programs. These conflicts were rectified and Bravado Gaming, who qualified for the next season, attended the Mountain Dew League finals in Los Angeles, California. While the promise of travel and some steady competition was one aspect of ESEA, the idea of a public pickup system was not initially well met by the local community. Some felt the monthly premium (being in Dollars) was a bit too expensive, while others felt it might be used by top teams only and their spots in these games would not be well met. Differences of opinion arose and ESEA eventually withdrew from allowing South Africa to compete in the Pro League due to lack of entries, but ESEA isn't giving up yet, and they're right to do so.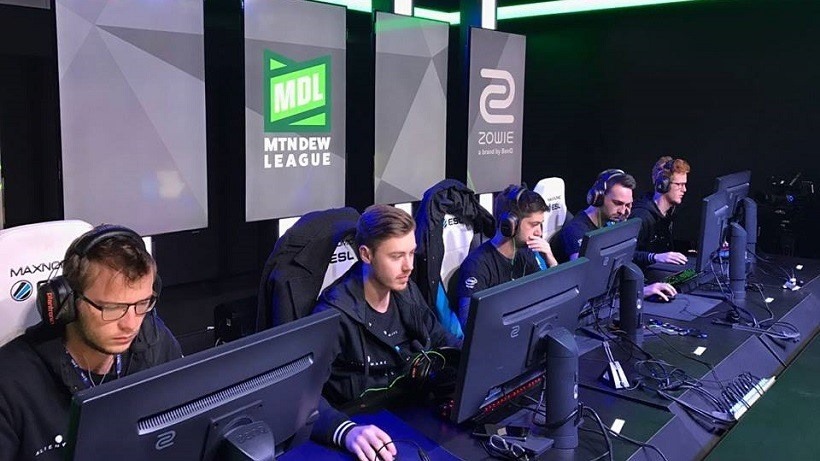 Bravado Gaming in Los Angeles, California.
Robby "blackpoisoN" Da Loca, the ESEA community manager and competitive player for Energy Esports, has worked hard to ensure that ESEA's goals in South Africa are met, and today he offered us a statement to talk about the changes which came with the new season of ESEA.
Robby has been competing in Counter-Strike for a number of years. He initially played for Bravado Gaming before leaving for Sweden to compete internationally. Robby then returned to Bravado Gaming last year where he competed until January 2017. After a few months in the shadows, Robby returned to play for rival team Energy Esports while continuing his work with ESEA.
"I wanted to reach out to you to talk about the improvements we are making in South Africa and what plans we have for the future. When we launched South Africa we wanted to bring the country, and region, the best possible playing experience for Counter-Strike, and also help by hosting international LANs you guys could be part of. Since our launch, we quickly saw success, but as you know growth has been difficult. We want to change that, and the first step is our responsibility. We recognize that we could have done a better job, and we invite you to join us on continuing to grow the South African CS scene!"
Here's all the information, offered by Robby in a statement.
The price of the premium has been lowered
To kick off the South African revival, we've lowered the price of premium significantly. Now for just R45 you are able to purchase premium through the Steam store. This is the first step in growing the community bigger and better. To help kick-off the new price, we've sent everyone from South Africa their own 1-week trial and one to share with a friend. We invite you and your friends to come back and enjoy the best experience possible.
We've launched 1v1, 2v2 and 5v5 ladders in all regions
As of right now the prizing is ESEA points, but as the region continues to grow we will alter the prizes to skins and other cool items. The ladder system allows you to queue up through the client to find matches, making it easier than ever for you to quickly find a game and play.
Removal of League fees for Season 5
We are continually committed to the region and are excited to see it grow! Simply maintain a roster of 5 players that have a current premium subscription and the team will be qualified to compete in season 25.  Registration (www.esea.net/league) is now open and we want to do our best to grow the league as quick as possible. While we can't promise a LAN for Season 25, if we see significant growth we PROMISE to include a team in the MDL Global Challenge finals in Season 26. You help us grow the region, and we'll help South African teams get a shot at international LANs!
"We believe there is a very bright future for South Africa and the region around it, and this is only the first change we are making to grow the region. We'll be adding more events, prizing as the region grows and we want everyone to be part of it. If you have any feedback, questions or concerns, please PM me on ESEA  or reach out to Few  and we'll get back to you as soon as possible."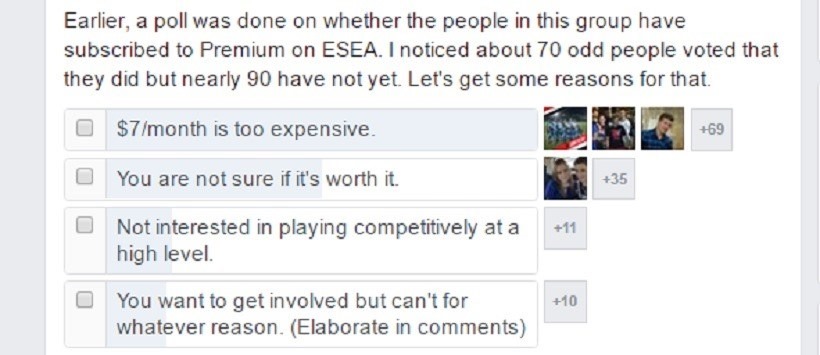 Initial poll regarding ESEA which shows issues with the premium.
You may be wondering why ESEA is pushing hard for South Africa, and the reason is simple. Our region is growing exponentially and there are those out there who want to see us competing and practising at the highest level. Systems like ESEA offer a higher standard of play, and having our growing community competing and playing at their best ensures a growing ecosystem. Personally, I feel this should be something we're jumping at, as I've said before, and the time has never been better with prices dropping and incentive growing for ESEA.
Like esports?
Check out esports central
Last Updated: June 13, 2017