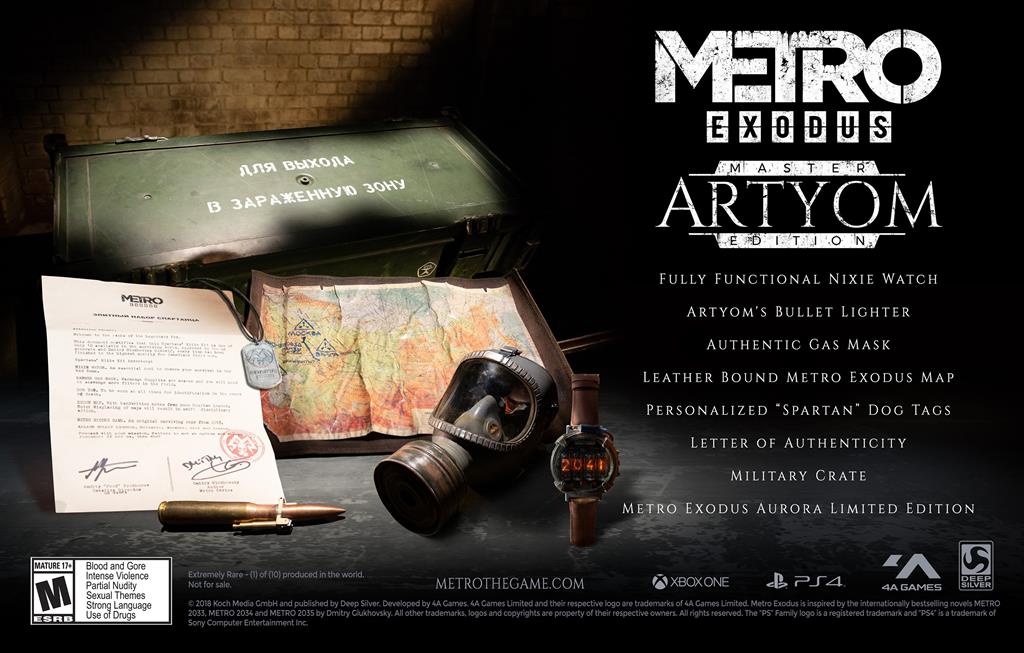 I'm not against the idea of collector's edition for games, but I'm not in a hurry to buy one either these days as the vast majority of them are nothing more than a box of disappointment when it comes to their content. Just like that box I held in my sweaty hands, as I bent my knee and proposed to my one true love: a mint condition Xbox 360 edition of Metal Gear Rising: Revengeance and dammit why won't you answer me you inanimate object?
A hefty price tag usually gets you some digital bonuses, a map of a land you'll never visit and other various assorted knick-knackery. Video game collector's editions just feel like generally cheap loot boxes these days, with offerings being barely worth the exorbitant price slapped on top of them. Well here's some good news for ya: Next month's gritty post-apocalypse shooter Metro Exodus, happens to have the exact inverse of that trend with a stunning Artoym Edition of the game being revealed a few hours ago.
And here's the obligatory bad news that tag teams with that announcement: You can't have it. Developer 4A Games have only commisioned ten of these, and they're keeping one for themselves. Here's what the ultra exclusive collector's edition, which comes packaged in a freakin' steel ammo crate, has inside of it:
A fully-functional, hand-made Nixie Watch
A Gas Mask and Filter
A working Bullet Lighter made from a decommissioned shell
A hand-made steel Spartan dog tag to be engraved with the recipient's name
A leather map case and map of the Aurora's journey
A personalised Certificate of Authenticity, signed by (Metro author) Dmitry Glukhovsky and (4A Games big cheese) Andrew 'Prof' Prokhorov
The entire kit was constructed by DB Props at Shepperton Studios, and before you start casing 4A Games for a little of the ol' breakin' and enterin' fun, there is one way that you can grab one of the nine remaining Artyom Editions. 4A Games say that they'll be given away through various competitions, and that eager fans will need to keep an eye on the 4A Twitter, Instagram, and Facebook pages, or pop a registration on their website to stand the slimmest of chances to win.
Or you could just make your own one. I mean, how hard could it be to create a lighter from a spent bullet shell which I haphazardly handled and forgot to empty the gunpowder out of? Now hold it still while I strike it with a hammer to loosen the fiddly bits. While my local hospital prepares my usual bed for my eventual return, you can grab Metro Exodus on February 15 when it hits PC, Xbox One and PS4.
Last Updated: January 10, 2019