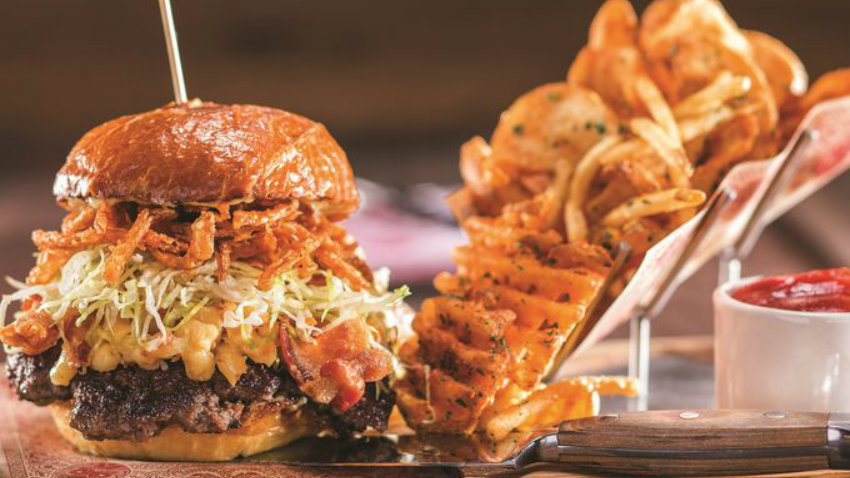 If you happen to subscribe to DSTV, you are probably all too familiar with Guy Fieri. Not only is he the host of Food Network shows such as Diners, Drive-Ins and Dives and Guy's Big Bite, he also hosted Minute to Win It. In fact, it's become almost impossible to watch TV without seeing his face. Now, that face is coming to South Africa.
For those who haven't been to Pretoria lately, Menlyn Maine is undergoing some serious development in the form of a new Time Square casino. Guy Fieri's Kitchen + Bar will open on the 1st of April and feature some of his signature dishes like his Bacon Mac-N-Cheese Burger and The Motley Que which has American barbecued pulled pork. As reported by Times Live, he said:
We take pride in our big-time hits … killer burgers, buffalo wings and craft cocktails … but we also take a look around the local area and see what's special.

I mean, if you're going to do South Africa, you got to have some scratch-made rubbed and sauced peri-peri chicken wings, right? You're not going to find grilled springbok loin from Mokopane in New York City but after trying it in South Africa, I may have to change that .
In case there's any wonder about the caliber of the restaurant, there will even be a mechanical bull in the venue.
I have some pretty mixed feelings about this. I find Guy Fieri vaguely entertaining, although his food seems to lack any nuance and according to reviews is actually pretty awful. His Times Square restaurant was so bad, this New York Times review of it is one of my favorite pieces of writing. I am strangely drawn to the concept of a Bacon Mac-N-Cheese Burger, almost just to say I've tried it, but I have a sinking suspicion that it will be awful and give me an instant heart attack. And then there's the issue of local vs international restaurants.
Obviously we want all the awesome things our international equivalents have. Remember the queues for Burger King, for Krispy Kreme, for Starbucks? We want the international brands and restaurants to come in, but I'm not always so convinced when it comes to restaurants like these. I never went to chain restaurants like Hard Rock Cafe or Planet Hollywood when I lived in the States – those were tourist traps meant to lure in the uninformed. But here in SA, the Hard Rock Cafe in Sandton or Jamie's Italian is an exciting import that even reputable "foodies" feel compelled to visit.
While places like these can offer a specific experience for South Africans, I have to wonder the impact they have on local restaurants. Will the success of a Guy Fieri restaurant mean the demise of a better, local experience? Will it change local food culture to prioritize scale and flamboyance of food over quality and taste?
Whatever the impact, I will probably wait and see what reviews come in before I make the journey to Pretoria, and then cry about my massive cravings for Mac-N-Cheese. Also, Darryn says I'm not allowed to write about Fieri without including one of these videos, so enjoy…
Last Updated: April 3, 2017