This article was sponsored. The editorial and content is entirely created in-house, unless otherwise specified.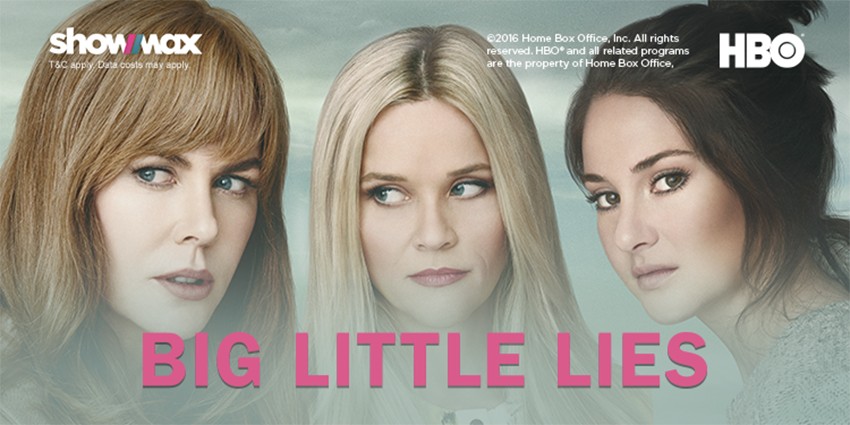 Browsing your Showmax library, you would easily be forgiven for looking at Big Little Lies and dismissing it as "Desperate Housewives with A-listers". Certainly, as you get to know the wealthy ladies of Monterey, California – played by Nicole Kidman, Reese Witherspoon, and Shailene Woodley – with their beachside homes as lush as their families and soap opera worries about fund-raisers and mom-group politics, you may feel like you've taken an accidental detour into fancier Wisteria Lane. But then you get to the murder.
Adapted by TV drama writing icon David E. Kelley from Liane Moriarty's novel – the events transplanted from Australia to the Californian coastline – with each of the show's seven episodes directed by multiple time Oscar nominee Jean-Marc Vallée, the story of Big Little Lies is framed by a murder at school trivia night and characters' response to it. The mystery though is not only that we don't know who the killer is, we don't even know who got killed.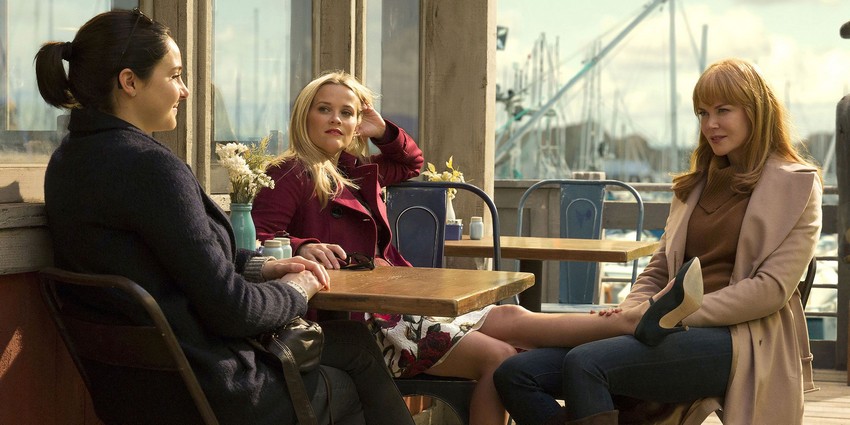 It's a delicious little hook as we backtrack to meet the likely suspects for both roles and follow their stories leading up to that homicide. What follows though, in gut-punch fashion, is the revelation that solving that murder mystery is secondary to the actual story Kelley and Vallée is telling here. A story about women and the chasmic cracks that lie hidden under their seemingly pristine visages and the people who caused them in the first place.
Witherspoon plays Madeline, alpha-female mother of two young children. She's wealthy, respected/feared, and strong-willed. She's also a remarried divorcee – her kids are from her failed previous marriage – but her current matrimony is not a raging success either, contrary to public opinion. Madeline struggles with its breakdown and the effect her past is having on her current relationship with her husband Ed (Adam Scott) and eldest daughter. Then there's retired lawyer Celeste, played by Nicole Kidman. She's the very definition of perfection with her angelic twin sons and handsome young husband Perry (Alexander Skarsgård). However, Celeste is living a lie, a carefully maintained subterfuge to hide the fact that Perry has a brutally violent temper of which she is often the victim.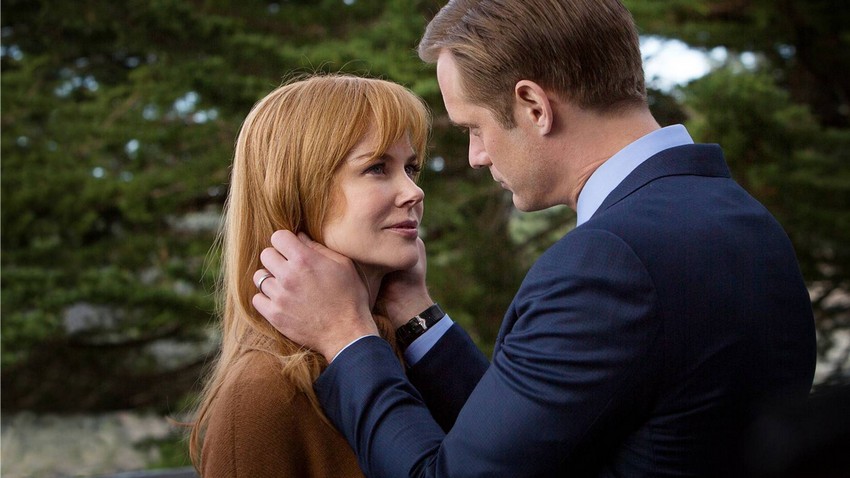 New to this whole mix is Shailene Woodley's Jane, a single mother who has moved to town for unknown reasons. When Jane's son Ziggy is accused of assaulting another first grader, it creates a rift as Ziggy denies trying to hurt the girl, Amabella, despite the protestations of her mother Renata (Laura Dern). Madeline and Celeste, the only ones siding with Jane and her son, befriend the young mother. As their friendship grows though, sordid secrets about their past and current lives come to light. These housewives may indeed be desperate, but their desperation is one borne of very real heartache and brutality. And the lies they tell about their suffering  – to themselves and those around them – is where the crux of this drama lies.
Walking a tightrope of tone and presentation, Kelley and Vallée manage to keep alive some of that soap opera melodrama, but there's an undeniable tragic darkness that becomes more prominent the further along we go. Luckily, the stacked A-list cast is most assuredly up to the task of managing that duality, turning in powerful, complex performances across the board. Kidman is the standout, in particular, the emotional therapy sessions she attends in which she has to face the truth that the man she thinks she loves is a monster, while Woodley turns in a career-best showing as the troubled Jane.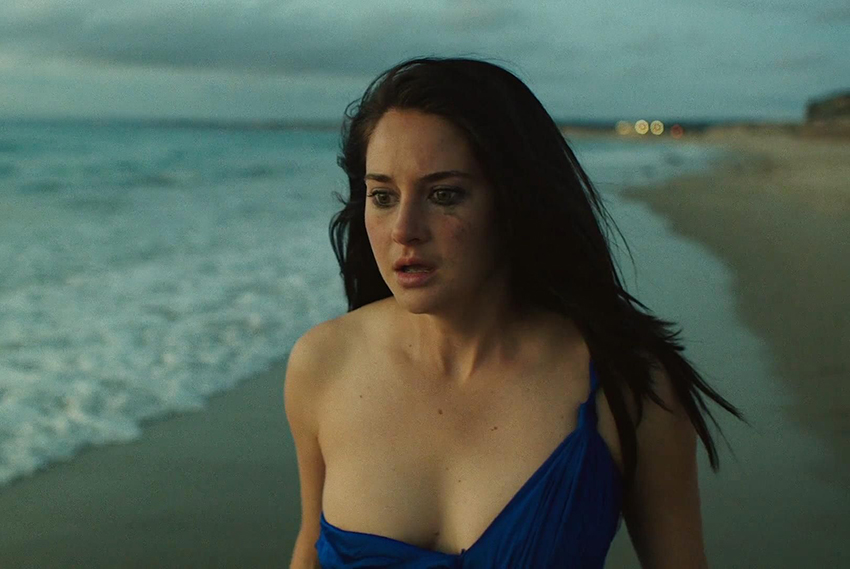 This is not just the story of this Monterey trio of moms though, as their actions and those of the men in their lives ripple down to their children. A study in the repercussions of abuse, Big Little Lies highlights the unavoidable truth that as much as families stand together, they break together as well. The normalisation of trauma for the sake of appearances is a pantomime performed by far too many women the world over (more than "zero" being too many), and Big Little Lies dives deep into uncovering those hard-hitting truths. All while also keeping you compelled to discover the puzzling truth behind the murder that kicked off this entire affair.
This masterful combination of entertaining Hollywood whodunnit and emotionally resonant real-world stories of women propelled Big Little Lies to 16 Emmy Award nominations of which it won 8, including Outstanding Limited Series, acting awards for Kidman, Skarsgård, and Dern, and Outstanding directing for Vallée. It also racked up 4 out of 6 Golden Globe Awards, and 4 out of 5 Critics Choice Awards once again walking away with the big ones. And it deserves every single one of those accolades.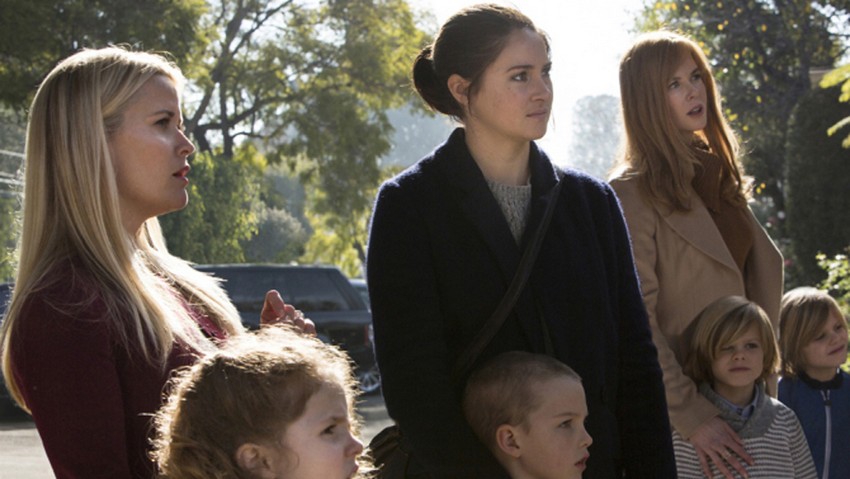 It's often said that we're in the Golden Age of Television as more and more A-list stars flock to the newfound prestige of the small screen, but it's not just about how recognizable their names are. The true gilded appeal here is in these talents being put to use to tell the type of important stories that Big Little Lies is made of. So make sure you check it out on Showmax.
Last Updated: July 27, 2018