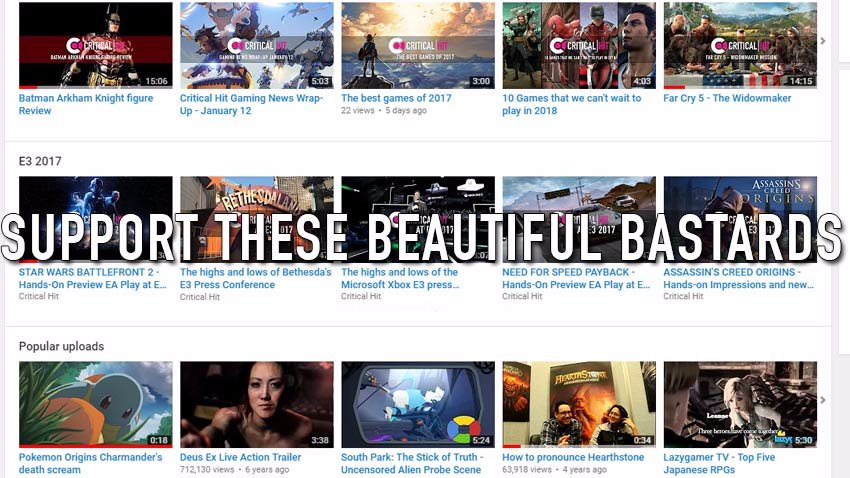 YO WHAT UP YOO TOOB IS YO BOY THE D HERE PAYING MAD RESPECTZ HERE AT THIS IRISH CASTLE AND I'M GOING TO WIPE MY BUTT ON THE BLARNEY STONE SO PEOPLE CAN KISS DAT!
If you want to be big on YouTube these days, you've got two options ahead of you: Do what you love, take your time and build up an audience over years as they slowly begin to click with your particular and genuine promotion of stuff that interests them. Or alternatively, you could just be a massive cock and rake in plenty of that adsense cash from doing all manner of buffoonery that attracts the impressionable youth to your channel while simultaneously reminding Japan that their 99% naturalised population is perhaps a good thing.
Things are changing in the YouTube scene right now though. In the past, being eligible for monetisation wasn't exactly insurmountable as YouTube required content producers to notch up 10 000 views on their channel before they could monetise their videos. A bit of hard work, self promotion and slipping $5 to a Chinese website to earn those views made it an achievable milestone for many a would-be YouTube superstar.
That's all in the past as of now.
YouTube is tightening its monetisation belt effective immediately, as they've just implemented the new requirements across the platform. The standard for monetisation will now require producers to reach the following goals:
A channel must clock in 4000 hours of viewing time within the last 12 months
A channel must have 1000 subscribers
"We've arrived at these new thresholds after thorough analysis and conversations with creators like you," YouTube wrote in a blog post.
They will allow us to significantly improve our ability to identify creators who contribute positively to the community and help drive more ad revenue to them (and away from bad actors). These higher standards will also help us prevent potentially inappropriate videos from monetizing which can hurt revenue for everyone.
It's a strict policy, and you can't help but imagine the recent antics of Logan Paul in Japan was the final nail in the monetisation coffin for many a smaller YouTube creator after the bafflingly popular dunce decided to film a corpse in the notorious suicide forest of that island nation. It's a more aggressive step for YouTube, which can also be seen in Google Adsense recently as numerous websites have found their pages demonetised in the wake of the company not wanting to step on the toes of big money advertisers.
Point of all this is, it's going to be that much harder for content creators to establish themselves on YouTube from now on, unless they're those fresh new young faces like John Oliver, Conan O' Brien or Jimmy Kimmel who can flood the platform with new ad-friendly video content on a daily basis. Still, if it means less of an incentive to be that kind of YouTuber, then maybe it's a positive change after all.
Last Updated: January 17, 2018