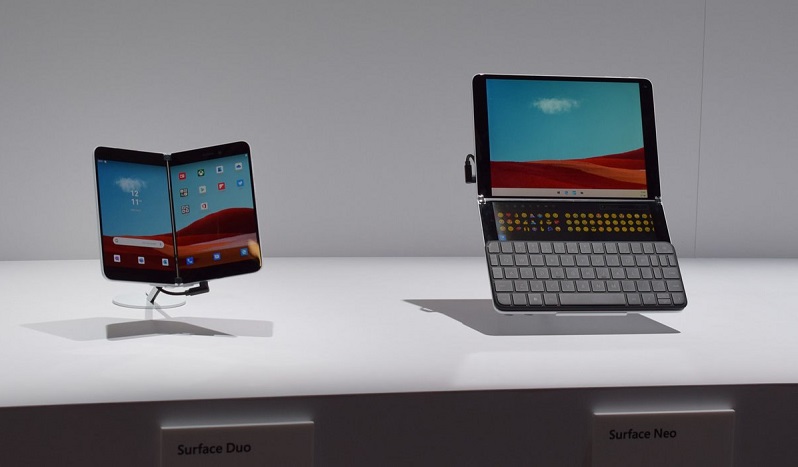 While the competition focuses on foldable phones, Microsoft is working on a dual-screen device instead. Easily the biggest news to come out of Microsoft's big Surface event from last night was the unveiling of their dual-screen Surface Neo, which has been rumoured to be in development for a while now.
Surface Neo
The new devices which will only be released late next year, but that were available in hardware form for attendees to use, are essentially two tablets that are joined together with a hinge and then synced together. The current model features two 9-inch displays, though the company is also experimenting with 12-inch displays.
Microsoft sees this dual-screen device utilised for improved reading, notetaking, while also servicing as a laptop as you can use one of the displays as a keyboard or ultimately, use a detachable keyboard as well. Microsoft sees this as a potential game-changer in the mobile space and is hoping it can even see innovation and utilisation in a way that has not been seen before.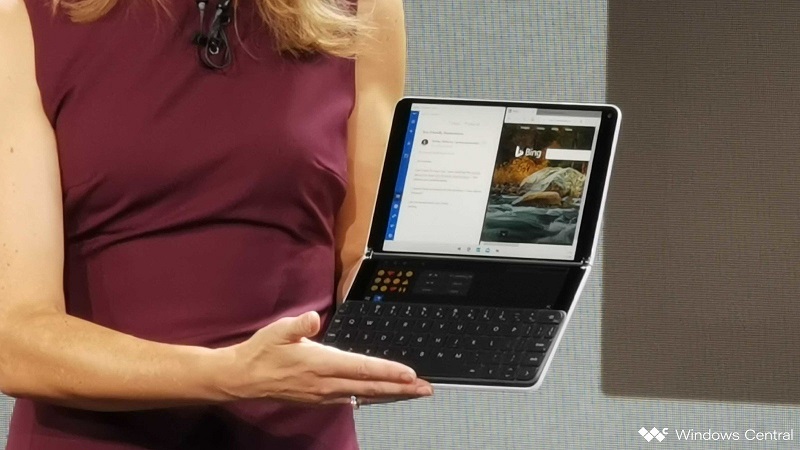 With regards to other hardware specs, however, Microsoft was not prepared to drop any details and whatever system they have running at the moment will likely change over the year ahead with the company revealing they will provide more hardware details around May 2020. The company did reveal though that Intel Lakefield processors will power the device. The real magic lies in the operating system which is where Microsoft's rumoured Windows 10X comes into play which was officially unveiled to the world.
Windows 10X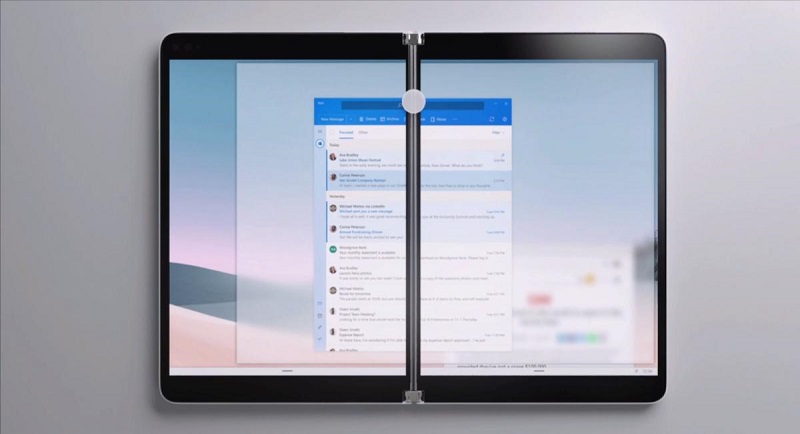 With Windows 10X Microsoft is scrapping its Live Tiles, the animated and flipping icons from the Windows Phone days, in favour of a more simplified look. The Windows 10X Start Menu includes apps you can pin in place and a list of recent documents. It looks like more of a task launcher than what exists in Windows 10 today. Along with a change in live tiles, the new operating system also comes with a redesigned start menu.
It's not clear whether the regular version of Windows 10 will also be updated to include some of these Windows 10X Start Menu changes though the company has confirmed that all Windows 10 apps will be compatible with this new version. What does seem clear though is that Microsoft is moving away from the Live Tiles which have been a feature of their 2-in-1 focus.
Dell, HP, Lenovo, and Asus are all also working on dual-screen or even foldable devices that will also run Windows 10X, so this isn't just a Microsoft and Surface effort.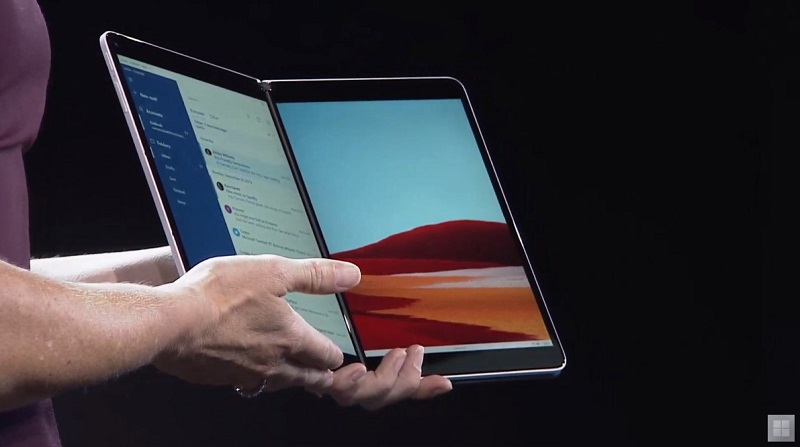 Though, it seems Microsoft can keep secret too because even though images of their new surface range found its way onto the internet earlier this week, they still unveiled something new which no one saw coming – a new Surface Dual screen phone. Yes, you read that right, Microsoft is back in the Phone game, but with something entirely different.
Surface Duo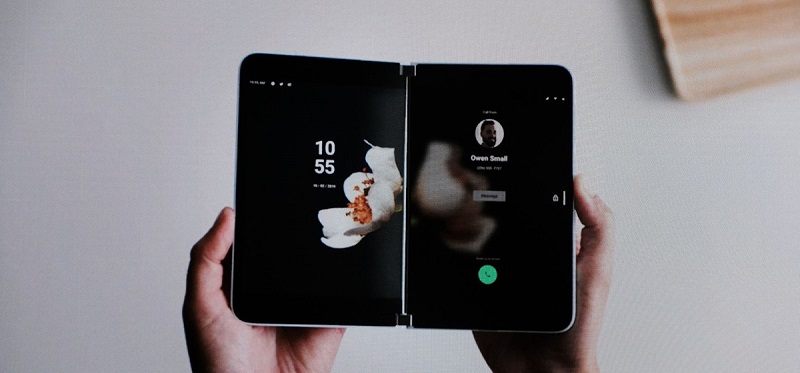 Microsoft's biggest announcement of the night was the new foldable Surface Duo phone which runs on Android and sees the company confirm that they are not trying to get back into the Mobile OS game anytime soon and are happy to have a platform which already has a widely supported app base.
The device resembles Microsoft's dual-screen Surface Neo, but on a smaller, pocketable scale. The Surface Duo features two 5.6-inch displays that can rotate 360 degrees, allowing it to be fully unfolded as a miniature 8.3-inch tablet. Unlike the foldable attempts we have so far, there is no attempt to have an additional screen on both sides of these displays, meaning that as a device it can be closed completely with no screen viewable.
Each display can also run different apps at the same time, or the Duo can be turned into landscape mode, allowing the second display to be used as a keyboard or game controller. The version of Android on offer here looks heavily skinned, too, to resemble the Windows 10X operating system that the larger Surface Neo runs, tough does feature the Google Play Store and is said to be fully compatible with all android apps.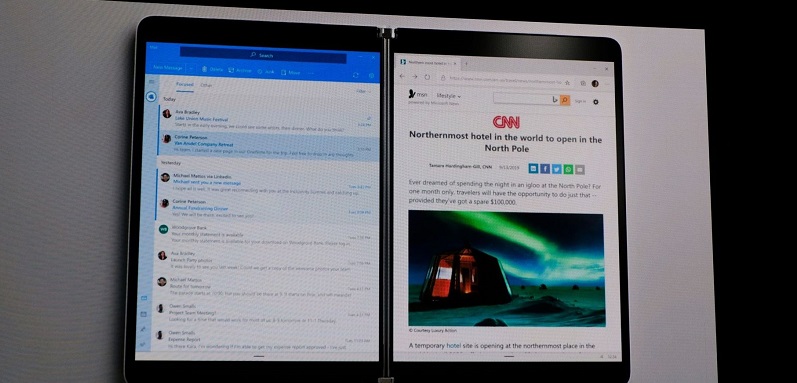 Interesting was a statement from CEO Satya Nadella in an interview to Wired where he revealed that Microsoft doesn't see the operating system as the most important layer for them and is willing to be more open in their usage of different operating systems:
The operating system is no longer the most important layer for us … What is most important for us is the app model and the experience. How people are going to write apps for Duo and Neo will have a lot more to do with each other than just writing a Windows app or an Android app, because it's going to be about the Microsoft graph.
The phone on display is still just a prototype, but that Microsoft has this running on actual hardware shows that the idea is far along. It's a big step for them to move back into the phone space but in choosing to adopt Google's Android platform also shows how the company is moving into a space where they want to see themselves collaborating with their peers rather than always competing with them. It will be interesting to see if this new step into the phone game will be successful or as ill-fated as their last attempt proved to be.
Last Updated: October 3, 2019