With almost all Android manufacturer's user interface overlays starting to melt in to one homogenous, stock-like Android experience, it's becoming harder and harder for flagship handsets to stand out. They're all offering much the same experience, so it seems that what platform holders are doing is throwing as many upgraded specs at the problem, and hoping it all sticks.
That's exactly what Sony did with its Xperia Z3+ (named the Z4 in Japan, and Japan only). That phone was a hasty refresh on one of the company's most popular models; an update for update's sake that did little to ingratiate the Xperia brand with consumers burnt out on the current Android update cycle.
The Z5 doesn't really change that too much, but it does feel like this time around Sony's taken a more measured, careful ethos. Sony's Xperia Z5 sits nestled, as the meat in the sandwich that makes up the Z5 range. As before, there's a mini version, which skimps on specs to target affordability, but it's joined this time around by a Z5 Premium, which takes the "kitchen sink" approach, stuffing a larger 4K display and a bigger battery for those who chase specifications.
The Z5, as I've said, is more considered. Though it's still more angular than any phone really ought to be, it does away with the overly sharp edges, replacing them with slightly more rounded ones. It's not quite as softened as it should be, but feels less like it's going to leave you a with a bloodied hand than handsets past. It also dispenses with the shiny glass back, replacing it with frosted glass that makes it look more premium, and is far less prone to picking up nasty fingerprints. The front's home to a 5.2″ 16M-color 1080 x 1920 IPS LCD capacitive touchscreen featuring scratch-resistant glass, and an oleophobic coating too, so cleans up easily enough.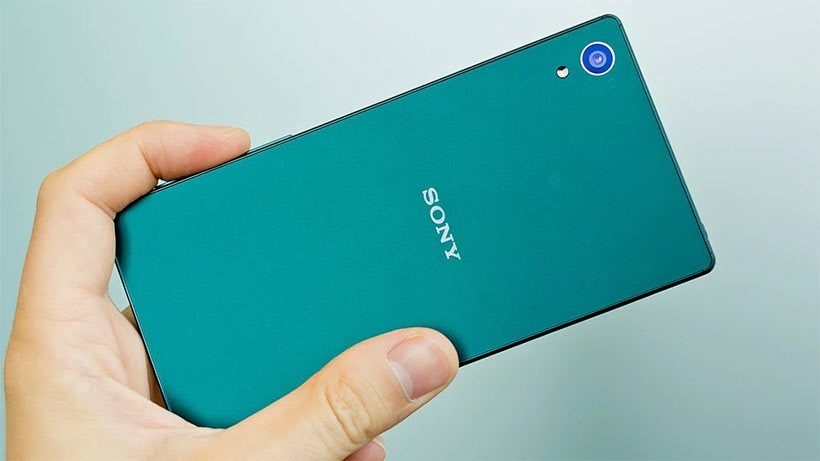 The power button, around half-way up the right-side of the handset is now a stealthy fingerprint sensor too. It works like magic; after registering my thumb with the device (by tapping away on the button what seemed a hundred or so times), the phone was able to quickly and successfully scan me in without issue – negating the need for a pin code, password or unlock pattern. In the future, when more retailers start accepting Android pay and other NFC equivalents for payment it'll make paying for things with your phone even easier than it already is.
The phone's placement of its squishy volume buttons is a little more problematic though. Located near the bottom of the phone, I found changing volume to be far fiddlier than it really should have been, and I'd have much preferred the volume rocker to be above the power-button-cum-fingerprint-sensor.
On the opposite end of the phone, you'll find its singular flap, which houses ports for both microSD and nano-sim. The phone is only available in 32GB version, though it's also just about the only handset available at the moment with support for newer 200GB microSD cards. Whichever way you slice it, storage space shouldn't be an issue.
The bottom of the phone is where you'll find the device's waterproof microUSB port, with an equally waterproof 3.5mm stereo port at the top. Sony's backed away from its messaging on the Z phones water-proofing, suggesting that users no longer attempt to use the phone while it's submerged. I happily gave the phone a bath though, with no ill-effects, though – because the review phone was accompanied by a note suggesting I'd be responsible for damages should they happen – I refrained from trying to take photos of my bath-time proclivities.
The decision to stick with Full HD over the 2K and 4K displays some of its competitors are using may seem an odd choice, but it's a good one in my opinion. It gives the phone better battery life, and with 5.2 inches of screen real-estate, just how necessary is a 4K display, really? The Z5 displays no readability problems whatsoever, leaving me convinced that 2K and 4K screens on mobile phones are just a great big marketing point with a huge battery life penalty.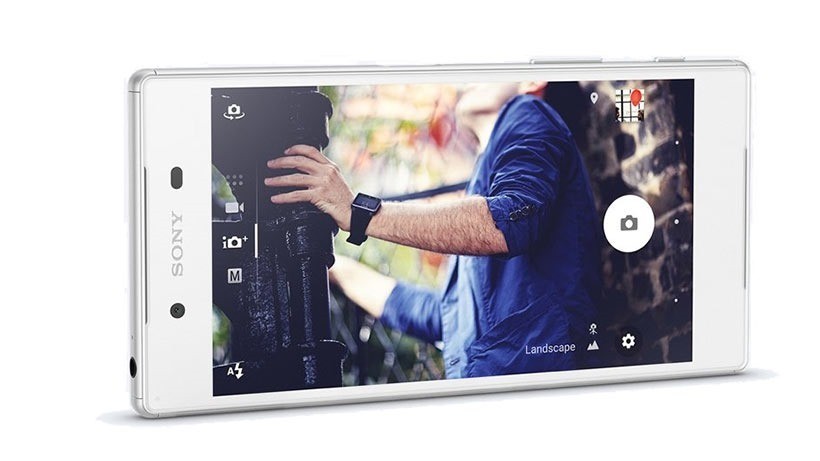 And though the phone's screen isn't capable of natively displaying 4K images or video, its camera is capable of recording video (in a variety of frame rates!) in 4K. You've got a 23 MP rear that can record 4K at 30 fps, or 1080p at up to 120fps for those nifty, slow motion kung-fu videos. The front-facing 5.1 will record video at 1080p and 30 frames per second. More important than big numbers where the camera is concerned though are the small numbers. The camera on the Z5 features one of the fastest autofocus on a smartphone, operating with a speed of just 0.3 seconds, which according to the marketing mumbo-jumbo is less than the blink of an eye. The camera's equipped with a simple-to-use superior automatic mode that should suffice for most users, along with all of the manual control premium instagrammers and hipsters might appreciate. The camera isn't exactly awe-inspiring, with images showing a bit more noise than I'd like – though I can hardly complain, running an HTC One M8 with its shoddy lens. The problem seems to be software driven rather than  a hardware issue though.
The Z5 is a zippy phone, but that's to be expected – as it actually uses the same processing internals at the Z3+; the very same Qualcomm Snapdragon 810.That means you've got a quad-core Cortex-A53 clocked at 1.5GHz and another quad-core Cortex A57 clocked at 2GHz, as well as an Adreno 430 GPU. It also means you've got largely the same overheating problems. Sony's made a few tweaks to keep heat down, but there's no denying that this phone runs warm, especially during intensive tasks like playing games. General usage is slick and fast, with superlative multitasking; moving in to, out of and around apps was lightning fast.
Sony's Z phones have always had pretty good batteries – but the battery-life on the Z5 isn't amazing. Sony's opted for a 2900mAH battery, sacrificing precious power for a slimmer profile. There are some clever optimisations at work to make the battery last longer than your average smartphone, but not nearly as long as Sony would like you to believe. As with most premium devices, I found myself getting just over a full day's use out of the Z5 – though your mileage may vary. On days with particularly heavy usage, I'd find myself having to plug in by 7pm. If you're not the most demanding user, you'll probably easily get the quoted two days of usage.
I have to admit that I'm not a big fan of the Xperia Launcher and the general user-interface that Sony's employed on its phones. While it resembles stock Android, there's a lot of wasted space to be found, giving the whole interface a far more cluttered look than blank space would have you imagine. The phone also houses some nasty bloatware; stuff like News from Sociallife, TrackID and the Xperia Lounge. There's also a built-in sketching app, but no note taking app which is both silly and strange. Thankfully it's quick and easy enough to replace the entire UI with something faster, lighter and sleeker – but I really do wish that Sony would get with the times.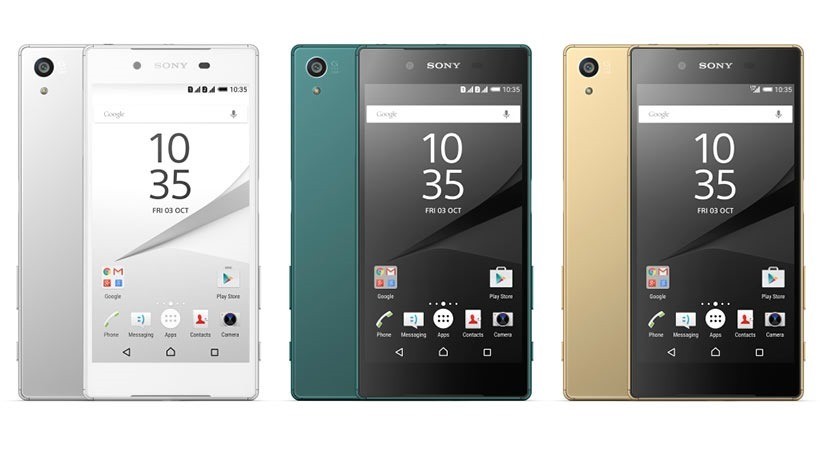 There is also the expected PlayStation connectivity, with the Z5 having access to PlayStation 4 remote play. I have to admit that remote play works, and looks better here than it does on the Vita (not really a surprise, given the phone's specifications compared to the Vita's), plus it allows you to pair a DualShock 4, so you needn't fumble about with rear-touchscreens.
Oh, and apparently it also works as a phone. I tested this mythical feature, and found calls crisp and clear – with those on the other end reporting the same. That may have to do with the built-in noise-cancelling microphone, but who uses the phone bits of phones anymore anyway.
Last Updated: November 30, 2015
Sony Xperia Z5

Look, if it's good enough for James Bond, it's good enough for me. Sony's Xperia Z5 makes up for the rushed-to-market Z3+, by being the phone that should have been in the first place. With a promising camera, a zippy processor and a crisp, detailed screen, the Z5 is certainly worth considering as your next upgrade.