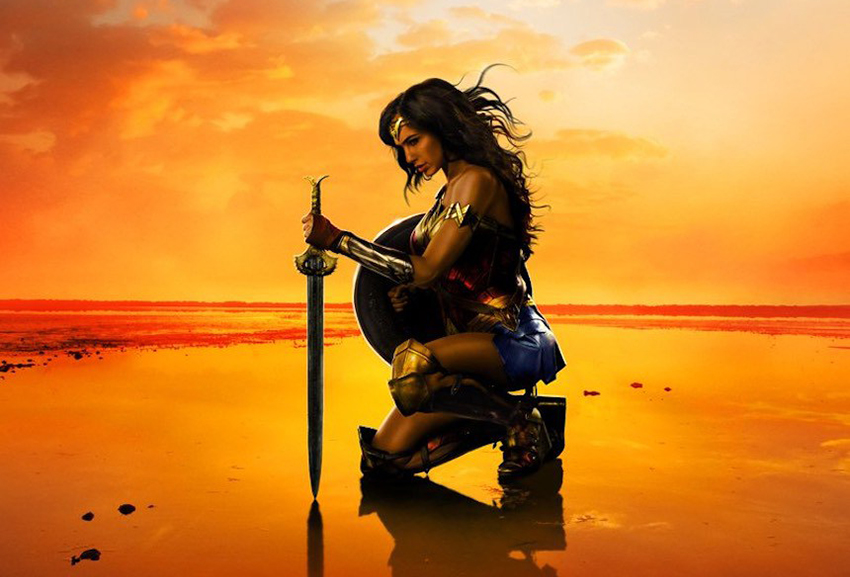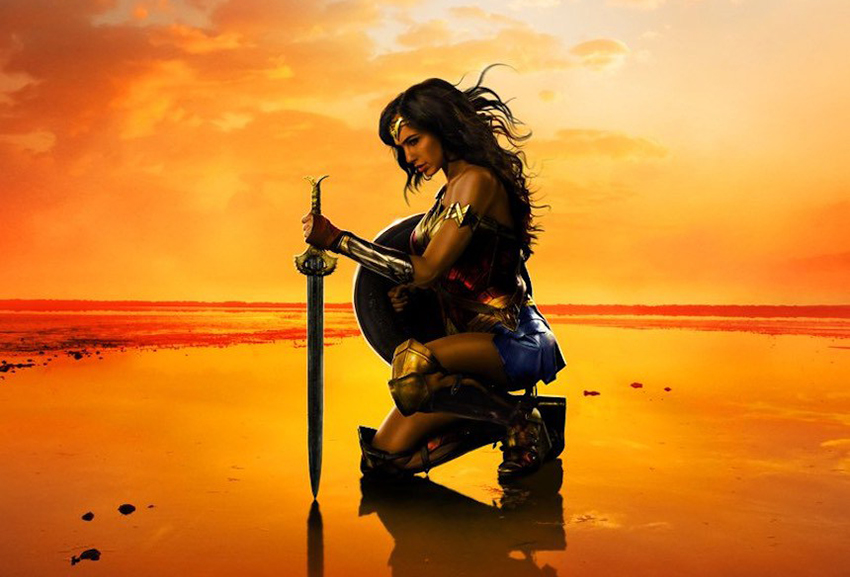 People love free things. They love it even more when it's free things to do with the other things they already love. Because of this, whenever reactions from fans of a particular property who got to see an early screening of a movie hit the net, you need to be ready and waiting with bucket loads of the old sodium chloride. Now it has to be pointed out that a general audience litmus test is definitely not without merit, as folks on the street don't always have the same sensibilities as a paid film critic. But that built-in and completely understandable bias, combined with the high of just walking out of a big Hollywood screening you were lucky enough to get into, will definitely skew perceptions. I present Batman v Superman as Exhibit A.
This is why I didn't put too much stock in the first reactions for Wonder Woman. Yes, I desperately want this movie to be good, so early positive buzz certainly buoyed my expectations, but I didn't get too worked up. Now I'm getting worked up. The first actual screening for press – people whose job it is to be pedantic about a movie – has taken place, and in a rather surprising move, Warner Bros has given the press in attendance leave to chat about the movie on social media. No full reviews as yet, but I think this is a sly move from the studio. BvS really damaged the trust of some fans, and all the rumoured behind the scenes mixups on Justice League, The Flash, Aquaman and more are not helping one bit. You would need to be really naive to not think that these are some of the reasons why Wonder Woman's box office predictions are so wonky. So the studio needs a pick-me-up ahead of the long awaited release of this movie, and what better way than to have people Tweet out to their thousands of followers about how good this movie actually is?
And apparently it is very, very f–king good. So good in fact that many are declaring this to not just be the best movie in the current crop of DCEU movies – which admittedly is not exactly an insurmountable achievement – but even saying this is the best DC Comics feature film adaptation since Christopher Nolan's The Dark Knight, hailed by many as the gold standard for these things.
Happy to report 'Wonder Woman' is a blast and @GalGadot is fantastic. Her chemistry with Chris Pine is magnetic. Absolutely recommended. pic.twitter.com/VPW4QW3IhM

— Steven Weintraub (@colliderfrosty) May 19, 2017
Best part of 'Wonder Woman' is the film has really funny parts and an optimistic and heroic protagonist. Great step forward for DC Films. pic.twitter.com/pAwm8j6y34

— Steven Weintraub (@colliderfrosty) May 19, 2017
Huge props to WB/DC for making the first big budget superhero movie with a female lead. Taken far too long but the drought is over. pic.twitter.com/PVMV8c7wQV

— Steven Weintraub (@colliderfrosty) May 19, 2017
#WonderWoman is the easily the best DCEU movie so far. It's got heart and a love of heroes. Pine and Gadot are charming beyond measure.

— Haleigh Foutch (@HaleighFoutch) May 19, 2017
It def has some problems and withers a bit in the 3rd act, but there's no doubt I'll be seeing it again.

— Haleigh Foutch (@HaleighFoutch) May 19, 2017
#WonderWoman is exactly the hero we need to see right now and Pine reminds why he's the best Chris.

— Haleigh Foutch (@HaleighFoutch) May 19, 2017
One last thing. For the record, I like MoS but you can't fuck with how inspiring and exuberant Jenkins allows WW to be.

— Haleigh Foutch (@HaleighFoutch) May 19, 2017
WONDER WOMAN is great. My favorite of the recent DC movies. It's fierce, funny, well-written and badass. @GalGadot owns it. Her lasso FTW pic.twitter.com/rQ0ufZxWXP

— ErikDavis (@ErikDavis) May 19, 2017
Wonder Woman is the DC movie I've been waiting for. It's exciting, inspiring, funny, and has some truly awe-inspiring action scenes.

— Germain Lussier (@GermainLussier) May 19, 2017
There are certainly some issues, like a mismatched 3rd act, but I'll discuss that in a longer review. Overall though, Wonder Woman rules.

— Germain Lussier (@GermainLussier) May 19, 2017
WONDER WOMAN: Easily my favorite DCEU film. Has the humor and heart the franchise so desperately needs. Gadot and Pine are charming as hell.

— Kate Erbland (@katerbland) May 19, 2017
#WonderWoman is the best DCEU film so far. The heart of Gal Gadot's Diana powers it, and the shift from mythic into WWI story really works.

— (((Eric Eisenberg))) (@eeisenberg) May 19, 2017
Very pleased to report that #WonderWoman is the best DC movie since THE DARK KNIGHT. I'm already looking forward to seeing it again.

— Silas Lesnick (@silaslesnick) May 19, 2017
I loved Wonder Woman. First act's a bit slow, but it's optimistic, emotional, and *gasp* funny. Best DC movie so far.

— Dave Schilling (@dave_schilling) May 19, 2017
Loved WONDER WOMAN. She reminds me of Christopher Reeve's Superman: true north superhero w/ no angst or cynicism, which is needed right now.

— Mike Ryan (@mikeryan) May 19, 2017
Easily the best of the DCEU. And I liked MAN OF STEEL. It's part CAPTAIN AMERICA: FIRST AVENGER and part "fish out of water" THOR 1.

— Mike Ryan (@mikeryan) May 19, 2017
Gadot and Pine have great, funny banter together. The backdrop of WWI is bleak, but the characters never are. I rooted for them.

— Mike Ryan (@mikeryan) May 19, 2017
#WonderWoman is hands down the best DCEU Film to date! Film is SO GOOD. I absolutely loved it! Bravo @PattyJenks @GalGadot @GeoffJohns ??⚔️

— Umberto Gonzalez (@elmayimbe) May 19, 2017
1. Hokay, here we go. #WonderWoman social media embargo just lifted. My thoughts: DC is absolutely on the right track here.

— Alisha Grauso (@AlishaGrauso) May 19, 2017
2. Gal Godot is absolutely phenomenal as #WonderWoman. She KILLS it, just surprisingly good. A truly heroic light DCEU desperately needs.

— Alisha Grauso (@AlishaGrauso) May 19, 2017
3. Rough parts? Sure. But guys, guys, YOU GUYS! You'll truly LAUGH. And you'll walk out, for once, feeling downright inspired by a DC movie.

— Alisha Grauso (@AlishaGrauso) May 19, 2017
Damn it. Why isn't it 2 June already?! I know we've literally been waiting decades for this movie to happen and could thus stand to wait just a couple more weeks, but I need to watch this movie now!
Wonder Woman was directed by Patty Jenkins (Monster) and penned by Alan Heinberg (who actually wrote the comics for a while) and Jason Fuchs. It stars Gal Gadot, Chris Pine, Connie Nielsen, Robin Wright, David Thewlis, Danny Huston, Elena Anaya, Ewen Bremner, Lucy Davis, Lisa Loven Kongsli, Said Taghmaoui, and Eugene Braverock. Here's the official plot synopis:
Before she was Wonder Woman, she was Diana, princess of the Amazons, trained to be an unconquerable warrior. Raised on a sheltered island paradise, when an American pilot crashes on their shores and tells of a massive conflict raging in the outside world, Diana leaves her home, convinced she can stop the threat. Fighting alongside man in a war to end all wars, Diana will discover her full powers…and her true destiny.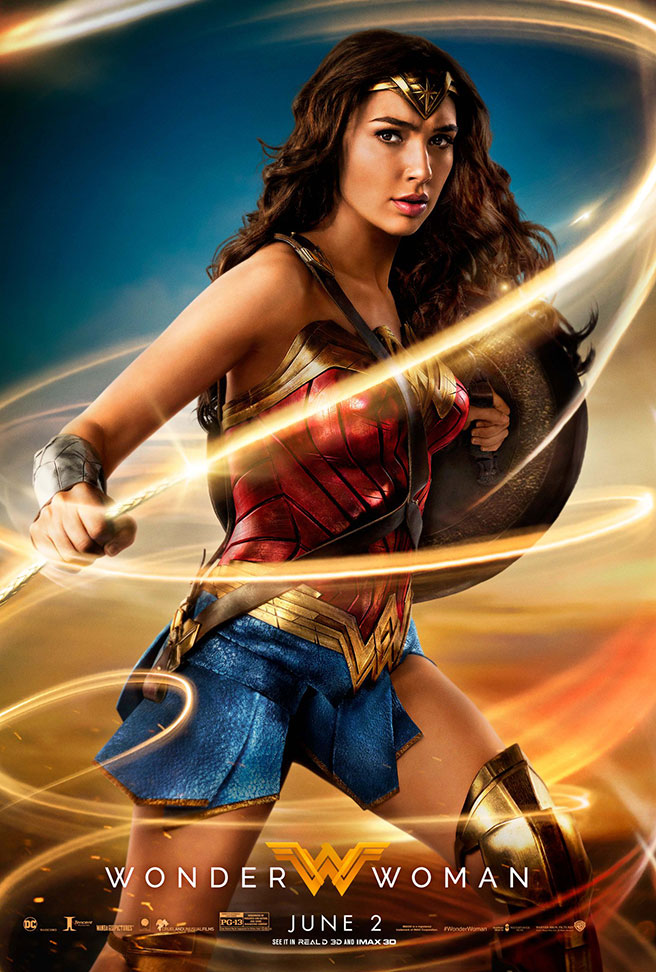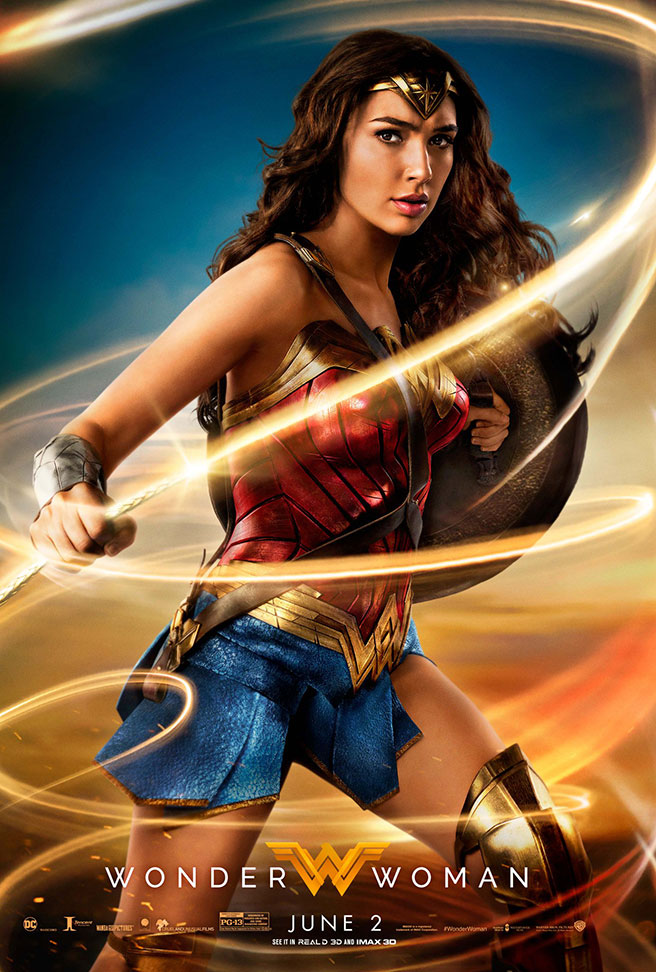 Last Updated: May 19, 2017