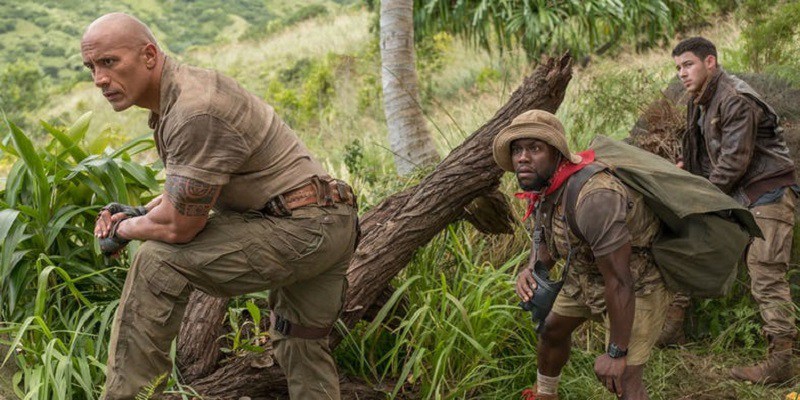 You've got to give it to Dwayne Johnson. Not only is he the biggest movie star in the world at the moment who has the ability to turn horrible movies into watchable ones, but he also has the humility to remember the fans in all of his massive success.
And while you could say his biggest financial achievement would be his appearing in those Fast and Furious superhero movies, I think it's fair to say that his biggest success ever was with Jumanji: Welcome to the Jungle. Essentially a sequel that no one asked for it actually ended up arguably not only a better film than it's beloved original, but one of the best films to come out last year. And the love people gave it at the box office only confirmed that fact.
It not only went on to make a lot of money to the tune of $950 million worldwide, but actually become the biggest hit ever for Sony as the film's domestic total of $403.71 million edged past Spider-Man's $403.7 million. Besting one of the most well-known superheroes ever is is a massive accomplishment and proof of not only the strength of the movie but the drawing power of a star like Johnson. It's no surprise then that Sony wants to make another sequel to their new biggest hit, but in a new Instagram message from the Rock himself to thank fans for the success of the film, it's only now that it is officially confirmed to being in development. And with The Rock serving as one of the producers on the film, he should know. He also isn't afraid to take a dig at co-star Kevin Hart which showed the man has a sense of humour to go along with those gigantic forearms of his.
We don't know when Sony is looking to release their planned Jumanji sequel, but with Johnson probably the busiest actor in Hollywood at the moment with a host of movies on his radar including Jungle Cruise, a Fast & Furious spin-off film and a Black Adam film (over and above the films he has already done work on like Rampage and Skyscraper), it will be difficult to find a slot in his schedule for this. My guess would be that we can expect a Jumanji sequel sometime around 2020 and with this film doing so well in A Christmas/New Year's release timeslot, I expect Sony will stick to that for the sequel as well.
For now though, we can at least take comfort in the fact that Jumanji is coming out on DVD and Blu-Ray and enjoy it in the comfort of our homes.
Last Updated: April 12, 2018