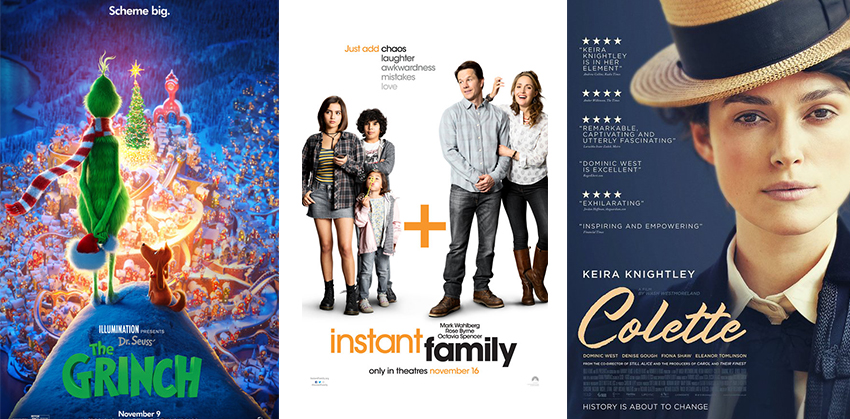 Christmas is in full swing at cinemas this weekend. From animation, family films and faith-based features, this week's new cinema releases are definitely going to get you in the festive spirit
Instant Family
Age Restriction: 13 L V
When Pete (Mark Wahlberg) and Ellie (Rose Byrne) decide to start a family, they stumble into the world of foster care adoption. They hope to take in one small child but when they meet three siblings, including a rebellious 15 year old girl (Isabela Moner), they find themselves speeding from zero to three kids overnight. Now, Pete and Ellie must hilariously try to learn the ropes of instant parenthood in the hopes of becoming a family.
Breaking up the constant parade of animated family friendly movies that seem to hit cinemas around this time of year is Instant Family, which is still a family movie in all fairness. However, this one is a grounded, rewarding look at the trials, tribulations and triumph around families themselves. With its strong story, acting and balance between comedy and drama, Instant Family is an instant hit.
Critical Hit: 8/10
Rotten Tomatoes: 82% (Certified Fresh)
Metacritic: 57 (Mixed or Average Reviews)
The Grinch
Age Restriction: PG
The Grinch (Benedict Cumberbatch) lives a solitary life inside a cave on Mt. Crumpet with only his loyal dog, Max, for company. With a cave rigged with inventions and contraptions for his day-to-day needs, the Grinch only sees his neighbors in Who-ville when he runs out of food. Each year at Christmas they disrupt his tranquil solitude with their increasingly bigger, brighter and louder celebrations. When the Whos declare they are going to make Christmas three times bigger this year, the Grinch realizes there is only one way for him to gain some peace and quiet: he must steal Christmas.
Bright and colourful enough to entertain the children, the latest iteration of Dr Seuss's The Grinch is safe and unassuming. It's not a necessary remake, but it's entirely decent enough to get by.
Rotten Tomatoes: 58% (Rotten)
Metacritic: 51 (Mixed or Average Reviews)
Colette
Age Restriction: 16 L N S P
After marrying a successful Parisian writer known commonly as "Willy" (Dominic West), Sidonie-Gabrielle Colette (Keira Knightley) is transplanted from her childhood home in rural France to the intellectual and artistic splendor of Paris. Soon after, Willy convinces Colette to ghostwrite for him. She pens a semi-autobiographical novel about a witty and brazen country girl named Claudine, sparking a bestseller and a cultural sensation. After its success, Colette and Willy become the talk of Paris and their adventures inspire additional Claudine novels. Colette's fight over creative ownership and gender roles drives her to overcome societal constraints, revolutionizing literature, fashion and sexual expression.
From Kiera Knightley's underestimated talent to the seedy undercurrent to the decadence of the era, there's a lot more to Colette than meets the eye. It's a smart, topical slice of history with an art-house vibe that manages to reign itself in before straying into "overwrought" territory
Rotten Tomatoes: 87% (Certified Fresh)
Metacritic: 74 (Generally Favourable Reviews)
The Healer
Age Restriction: 13 L
A young man discovers suddenly to have the gift of healing. Trying to understand it and the new reality that it offers, a teenage girl with terminal cancer unexpectedly will show him the way.
Yet another overly-moralistic, credibility-stretching faith-based film with little else to say in between all the pontification. The only standout for me with The Healer is how random the cast is. They've got Camilla Luddington (the voice of Lara Croft in the most recent trilogy), Jonathan Pryce (Game of Thrones), and Oliver Jackson-Cohen from The Haunting of Hill House.
Rotten Tomatoes: 17% (Rotten)
Metacritic: To be determined
For more information about the age restrictions, click here.
Last Updated: December 7, 2018