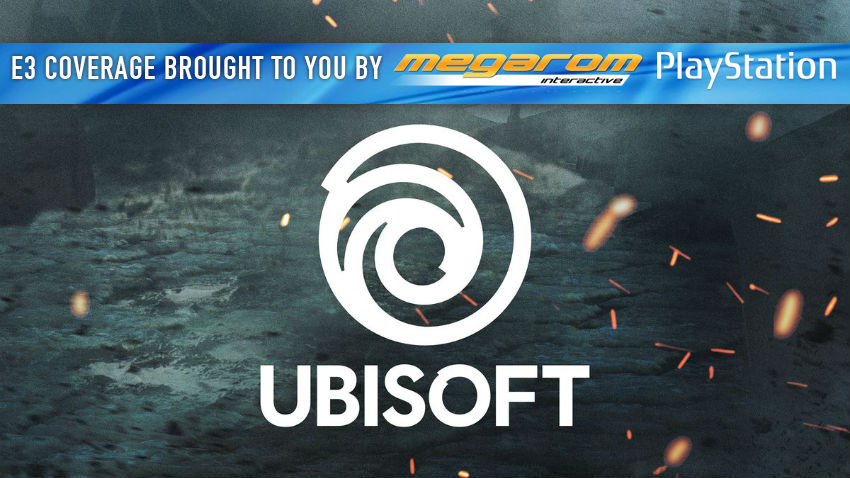 Ubisoft always has my favorite press conference to cover. They make big announcements, show off cool things, and then do weird antics on stage that give me time to write up my articles about said cool things. This year was no different, with Ubisoft showing a wide range of titles that got the audience fired up, and eventually left me in tears. Yes, I cried at the end of the press conference. But don't just scroll to the end and find out why, join me on the weird and wonderful journey through Ubisoft's 2017 E3 press conference.
In a touching speech from Miyamoto-san, the two men talked about their mutual respect and friendship that has grown over so many years of making games. It was wonderful to see these pillars of gaming share a stage, even if it was to announce a game that probably still makes Geoff cringe. But even though it's beyond silly to combine Rabbids and Mario, the actual gameplay looks really great – almost like XCOM levels of strategy and tactics, but in a Mario universe with some silly Rabbit antics. Here you can see both the trailers and the stage show.
Then a quick trailer from Assassin's Creed Origins
I suppose Ubisoft already blew their load about Assassin's Creed Origins, or they were saving more for the show floor demo. During their press conference, we just got a pretty trailer and some teases about why this game is cool and matters. I wanted way more, but I can understand why this is all we got. Also, can I just say how cool this new Assassin logo is for this game? Integrating the eye of Ra is pretty sexy.
What does this mean, I hear you ask. Good question. It means that The Crew 2 won't just be a driving game for cars. Motorsports means so much more than that. From bikes to boats and even planes, The Crew 2 will let you engage in all manner of motorized sporting experiences. If you're a fan of the vroom vroom, this could be pretty intriguing for you.
Transference piqued my interest and is more terrifying than VR should ever be
VR is the ultimate tech for horror experiences. With a virtual reality strapped to your face, you can't escape, pause or catch your breath. Transference imagines a world where people's trauma has been uploaded into technology, allowing you to experience it for them. At least, I think that's what it's about. I don't honestly know, but this trailer scared the bejesus out of me.
Ever since we got to engage in naval combat in Assassin's Creed, gamers have been clambering for a game that does just that. Let us take to the high seas and live our pirate lifestyles! Ubisoft has listened, giving us Skull & Bones, a single and multiplayer pirate game that lets you take to the high seas with friends, plunder all the loot and eventually become the best (or worst, I guess) pirate in the world.
Oh yeah, and of course Just Dance is coming back. Obviously.
Imagine the joy of building your ideal star ship out of LEGO. Imagine attaching that toy to your controller and then using it in a game. That's pretty much Starlink. This isn't for Amiibo or Skylander folk, this is a something all together different. It looks pretty cool, if very niche. Then again, I always think the desire for space combat is niche until something like Star Citizen gets all the love and attention.
Steep is back with "Road to the Olympics"
When facing Christian terrorists, of course we have to make reference to raising hell or damning them all, right? Either way, these videos showcasing exactly why you are stuck in Hope County fighting terrorists, and how you will do it is worth watching if only for the dog. Fetch!
Yes, this is the part that made me cry. I'm not going to pretend otherwise. After almost 15 years of waiting, Beyond Good and Evil 2 is really coming, it really exists. I know I wasn't the only one crying – I even saw Ancel shed a tear on stage after the reveal trailer. This is what gaming is all about – telling stories that resonate with people, creating beautiful worlds for us to explore and touching the hearts and minds of so many people. Plus, the game looks so freaking cool – I can't wait!
Need more E3 in your life?
Check out our E3 2017 portal powered by Megarom Games and PlayStation
Last Updated: June 13, 2017