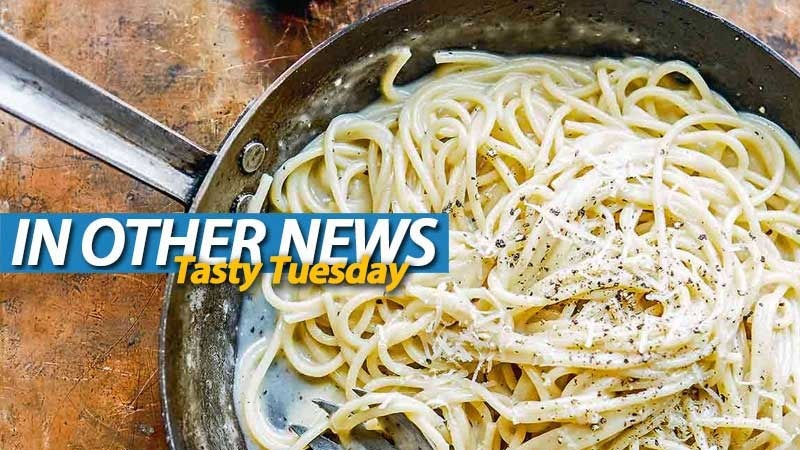 I'm a big fan of simple flavours when it comes to food – especially if you're using quality products. Sullying their natural flavours with second-rate spices is a crime against humanity that should be punishable by death. Or KFC dunked wings.
One of the finest dishes to be found anywhere is Cacio e pepe, a simple pasta dish using any of a number of types of spaghetti, with little more than Pecorino Romano and cracked black pepper. Some of the water from boiling the spaghetti is used directly on the cheese, melting it – with the starches from the spaghetti thickening the sauce. A bit of pepper and what you have is something truly sublime. So simple, yet so delicious.
In Other News: Kingdom Hearts 2.8: unnecessarily long title delayed, Overwatch is back on top, Sit and chill with PSVR and the Vita is alive. ALIIIIVE!
Here's the news we didn't post because we were too busy sending bigoted pastors back from whence they came.
News
Kingdom Hearts 2.8 to miss December, now out January 24th
Overwatch tops the charts once again
Forza Horizon 3: The top 5 changes explored in new video
Miyamoto talks down Mario on VR
Check out this plot-heavy Valkyrie Drive: Bhikkhuni trailer
Forza Horizon 3 PC demo will be out after launch
Sony announces anywhereVR for PlayStation VR
Nier: Automata gets February release date
Stuff
Final Fantasy XV gets a special PS4 in Japan
PlayStation Vita isn't dead, in Japan anyway
Overwatch "healsuts" turn playing support into an erotic experience
What if Uncharted 4 on PS4 Pro ran at 60fps?
Videos
What's on at The Movies
We review THE ACTOR – A local film with lots of aspiration
Slip into something darker with the teaser trailer for FIFTY SHADES DARKER
Greg Berlanti's BOOSTER GOLD movie will be a "separate thing" from the DC Cinematic Universe
Jeff Nichols to write and direct ALIEN NATION remake
Tom Hanks to write and star in upcoming WWII maritime drama GREYHOUND
Last Updated: September 13, 2016