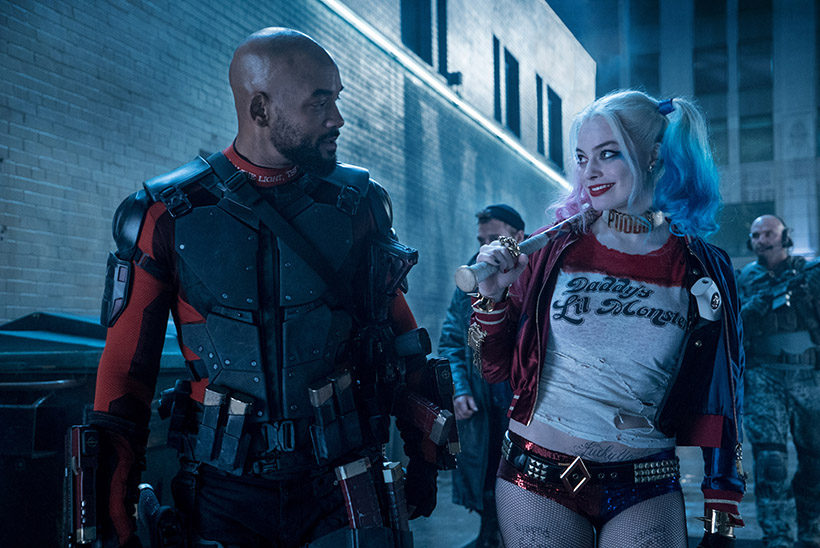 The last hour or two has been insane. Thanks to the folks at Warner Bros and Legendary Pictures, I've spent the better part of this evening  furiously typing up a storm to bring you guys the new trailers for Wonder Woman, Justice League, Kong: Skull Island, King Arthur: Legend of the Sword and Fantastic Beasts and Where To Find Them which all debuted at Comic-Con earlier tonight. And in all of that hubbub, I seem to have overlooked the fact that during the really cool Warner Bros. panel, the studio also released a brand new trailer for Suicide Squad.
Now we've certainly seen our fair share of trailers already for the upcoming, brilliantly off-kilter looking supervillain team-up movie, and if they were to show any more footage there would probably not any point any longer to actually seeing the full movie when it releases next month. So WB pulled a page out of the book of this unfortunate young lady and did a REMIX!
Splicing together footage from the trailers we've already seen along with snippets of some new material, this new trailer is absolutely masterfully edited to and choreographed alongside tracks from the film's official soundtrack. Seriously, this editing is incredible and right up there with… well, that incredibly edited Suicide Squad trailer choreographed to Queen's Bohemian Rhapsody. Although everything I've seen tells me it will, I can't tell you with 100% certainty if this movie will actually live up to its hype or not. What I can say unequivocally though is that Suicide Squad's marketing has been spot on, and this may arguably just be the best of the lot.
Watch and listen to it below.
It feels good to be bad… Assemble a team of the world's most dangerous, incarcerated Super-Villains, provide them with the most powerful arsenal at the government's disposal, and send them off on a mission to defeat an enigmatic, insuperable entity. U.S. intelligence officer Amanda Waller has determined only a secretly convened group of disparate, despicable individuals with next to nothing to lose will do. However, once they realize they weren't picked to succeed but chosen for their patent culpability when they inevitably fail, will the Suicide Squad resolve to die trying, or decide it's every man for himself?
Once again I ask you, with tears in my eyes, how the hell is it even humanly possible that I'm this excited for a movie starring Jai Courtney?! I mean, did you see that bit with the lighter? Hilarious!
Suicide Squad was written and directed by David Ayer (Training Day, End of Watch, Fury) and stars Will Smith, Jared Leto, Margot Robbie, Joel Kinnaman, Viola Davis, Jai Courtney, Jay Hernandez, Adewale Akinnuoye-Agbaje, Ike Barinholtz, Scott Eastwood, Cara Delevingne, Adam Beach, and Karen Fukuhara. It is scheduled for release on August 5, 2016.
PS: In case anybody was wondering, the songs were "Heathens" by Twentyone Pilots (love this track), "Sucker For Pain" by Lil Wayne, Wiz Khalifa and Imagine Dragons, and "Purple Lamborghini" by Skrillex and Rick Ross.
Last Updated: January 4, 2017