Nineteen movies come to home release during the lengthy Winter school holidays. Apart from a couple of family films and blockbuster popcorn flicks, it's more a selection for adults though. We've made our top 5 recommendations, followed by a listing of all the rest.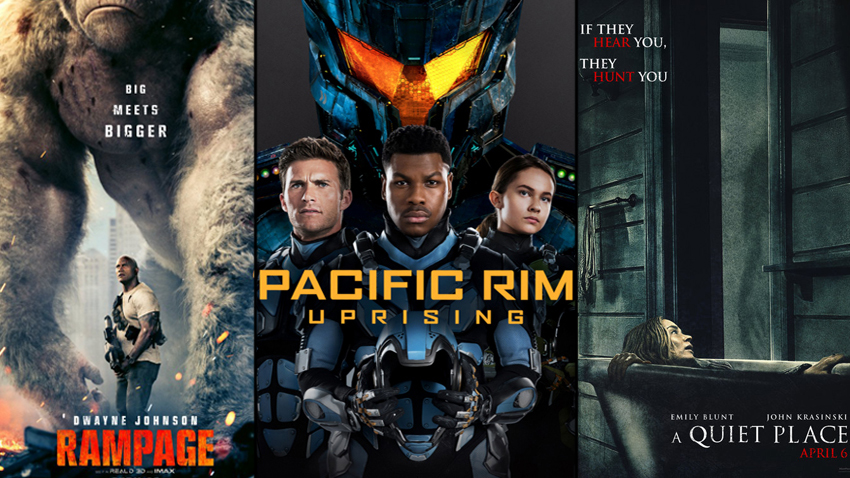 Our top 5 picks this month:
A Quiet Place
Genre: Thriller / Horror
A family of four must navigate their lives in silence after mysterious creatures that hunt by sound threaten their survival. If they hear you, they hunt you. With John Krasinski and Emily Blunt.
Every year there are at least two surprise standout hits in the horror genre. A Quiet Place came out of nowhere to win over audiences and critics alike with its exceptional acting, genuine heart and knuckle-gnawing near-total silence. Masterfully crafted and effective.
Critical Hit: 8.5/10
Rotten Tomatoes: 95%
Metacritic: 82
Pacific Rim Uprising
Genre: Action / Sci-fi
John Boyega stars as the rebellious Jake Pentecost, a once-promising Jaeger pilot whose legendary father gave his life to secure humanity's victory against the monstrous Kaiju. When an even more unstoppable threat is unleashed to tear through our cities and bring the world to its knees, he is given one last chance to live up to his father's legacy by his estranged sister, Mako Mori (Rinko Kikuchi)—who is leading a brave new generation of pilots that have grown up in the shadow of war.
There are far worse popcorn flicks to watch than sequel Pacific Rim Uprising, which is loads of dumb, colourful fun (think of it as Top Gun with giant robots) and proves that Boyega has the charisma to carry a blockbuster on his own. Still a pale imitation of the Del Toro original though.
Critical Hit: 6.5/10
Rotten Tomatoes: 43%
Metacritic: 44
Ready Player One
Genre: Action / Adventure / Sci-fi
In a chaotic, hopeless 2045, people have found salvation in the OASIS, an expansive virtual reality universe created by the brilliant and eccentric James Halliday (Mark Rylance). When Halliday dies, he leaves his immense fortune to the first person to find a digital Easter egg he has hidden somewhere in the OASIS, sparking a contest that grips the entire world. When an unlikely young hero named Wade Watts (Tye Sheridan) decides to join the contest, he is hurled into a breakneck, reality-bending treasure hunt through a fantastical universe of mystery, discovery and danger.
Steven Spielberg's Ready Player One is unquestionably one of the director's most visually dazzling films in years, and it has an irresistible "80s teen adventure" vibe. Spectacle and nostalgia do not a wholly satisfying movie make though, and this novel adaptation is thin on plot and thematic depth.
Critical Hit: 6.5/10
Rotten Tomatoes: 73%
Metacritic: 64
Rampage
Genre: Action / Adventure
Primatologist Davis Okoye (Dwayne Johnson), a man who keeps people at a distance, shares an unshakable bond with George, the extraordinarily intelligent, silverback gorilla who has been in his care since birth. But a rogue genetic experiment gone awry mutates this gentle ape into a raging creature of enormous size. To make matters worse, it's soon discovered there are other similarly altered animals. Okoye must secure an antidote, fight his way through an ever-changing battlefield, and save the fearsome creature that was once his friend.
If Pacific Rim Uprising doesn't satisfy your desire this month for big things punching other big things, there's Rampage, the best-reviewed video game adaptation of all time. It's not subtle, but this blockbuster has far more heart and overall entertainment value than expected.
Critical Hit: 7/10
Rotten Tomatoes: 52%
Metacritic: 45
I, Tonya
Genre: True Story / Comedy Drama
Based on the unbelievable, but true events, I, Tonya is a darkly comedic tale of American figure skater, Tonya Harding, and one of the most sensational scandals in sports history. Featuring an iconic turn by Margot Robbie as the fiery Harding, a mustachioed Sebastian Stan as her impetuous ex-husband Jeff Gillooly, a tour-de-force performance from Allison Janney as her acid-tongued mother, LaVona Golden, I, Tonya is an absurd, irreverent, and piercing portrayal of Harding's life and career in all of its unchecked, and checkered, glory.
I, Tonya benefits massively from its mockumentary approach to real-life events and it's Oscar-nominated (and winning) performances. It's both hilarious and relatable, making it a welcome change from the usual dour approach to biopics.
Critical Hit: 9/10
Rotten Tomatoes: 89%
Metacritic: 77
The rest released this month:
Death Wish
Dr. Paul Kersey (Bruce Willis) is a surgeon who only sees the aftermath of Chicago violence when it is rushed into his ER – until his wife (Elisabeth Shue) and college-age daughter (Camila Morrone) are viciously attacked in their suburban home. With the police overloaded with crimes, Paul, burning for revenge, hunts his family's assailants to deliver justice.
Critical Hit: 5/10 and reader reviews
Rotten Tomatoes: 18%
Metacritic: 31
Winchester
Inspired by true events. On an isolated stretch of land 50 miles outside of San Francisco sits the most haunted house in the world. Built by Sarah Winchester, (Academy Award-winner Helen Mirren) heiress to the Winchester fortune, it is a house that knows no end.
Critical Hit: 3.5/10 and reader reviews
Rotten Tomatoes: 14%
Metacritic: 28
Peter Rabbit
Based on the books by Beatrix Potter, Peter Rabbit (James Corden) and his three sisters, Flopsy (Margot Robbie) Mopsy (Elizabeth Debicki) and Cotton Tail (Daisy Ridley), along with their cousin Benjamin (Colin Moody), enjoy their days harassing Mr McGregor in his vegetable garden.
Rotten Tomatoes: 62%
Metacritic: 51
Tyler Perry's Acrimony
In Tyler Perry's sexy and electrifying thriller, a faithful wife (Taraji P. Henson) is driven over the edge when it becomes clear she has been betrayed by her devious husband.
Rotten Tomatoes: 21%
Metacritic: 32
My Blind Brother
Robbie (Adam Scott) is a handsome but cocky blind athlete. Bill (Nick Kroll) is his less handsome, guilt-ridden brother, whose role in life is to serve as his brother's eyes. After guiding Robbie through a marathon, Bill thinks his job is done. But Robbie wants his brother to guide him on a sponsored swim across the lake in their small town.
Rotten Tomatoes: 82%
Metacritic: 60
Extortion
When a Caribbean family vacation takes a disastrous turn, a father finds himself at the mercy of a cold-blooded fisherman, and a desperate race against the clock to save his wife and son.
Inside
Young mother-to-be Sarah is trying to rebuild her broken life: recently widowed in a shattering car crash that left her partially deaf, with her baby's birth uncomfortably long overdue and alone, unpacking in unfamiliar surroundings having just moved home. As night descends on her deserted suburban street, Sarah receives a most unwelcome visitor.
Rotten Tomatoes: 23%
Metacritic: 36
Sleight
A young street magician (Jacob Latimore) is left to care for his little sister after their parents passing, and turns to illegal activities to keep a roof over their heads. When he gets in too deep, his sister is kidnapped, and he is forced to use his magic and brilliant mind to save her.
Rotten Tomatoes: 74%
Metacritic: 62
Insidious: The Last Key
Parapsychologist Dr. Elise Rainier (Lin Shaye) has nightmares about her childhood in New Mexico. When client Ted Garza calls Elise for help after moving into the same home years later, Elise travels with her assistants Specs and Tucker to New Mexico where they will discover an evil entity in the house.
Rotten Tomatoes: 32%
Metacritic: 49
Just Getting Started
A two-hander action comedy in the vein of Midnight Run, about an ex-F.B.I. Agent (Tommy Lee Jones) and an ex-mob lawyer in the Witness Protection Program (Morgan Freeman) having to put aside their petty rivalry on the golf course to fend off a mob hit. Also with Rene Russo.
Rotten Tomatoes: 5%
Metacritic: 21
The Strangers: Prey At Night
A family's road trip takes a dangerous turn when they arrive at a secluded mobile home park to stay with some relatives and find it mysteriously deserted. Under the cover of darkness, three masked psychopaths pay them a visit to test the family's every limit as they struggle to survive.
Rotten Tomatoes: 38%
Metacritic: 48
Raaiselkind
This powerful South African movie, in Afrikaans, brings the story "Raaiselkind", by author Annelie Botes, vividly
and terrifyingly to life. It shows the intense emotional trauma which a couple must endure in dealing with
autism and how their lives are forever changed because of their child with autism and their child's early death
under mysterious circumstances.
Mary Magdalene
The biblical biopic tells the story of Mary (Rooney Mara), a young woman in search of a new way of living. Constricted by the hierarchies of the day, Mary defies her traditional family to join a new social movement led by the charismatic Jesus of Nazareth (Joaquin Phoenix). She soon finds a place for herself within the movement and at the heart of a journey that will lead to Jerusalem.
Rotten Tomatoes: 42%
Metacritic: 47
Gringo
An exhilarating mix of dark comedy, white-knuckle action and dramatic intrigue, Gringo joyrides into Mexico, where mild-mannered businessman Harold Soyinka (David Oyelowo) finds himself at the mercy of his back-
stabbing business colleagues back home, local drug lords and a morally conflicted black-ops mercenary. Also with Joel Edgerton, Charlize Theron and Sharlto Copley.
Critical Hit: 7/10 and reader reviews
Rotten Tomatoes: 40%
Metacritic: 46
For more DVD releases, check out https://buydvdsonline.co.uk/new-to-dvd/.
Last Updated: February 22, 2022