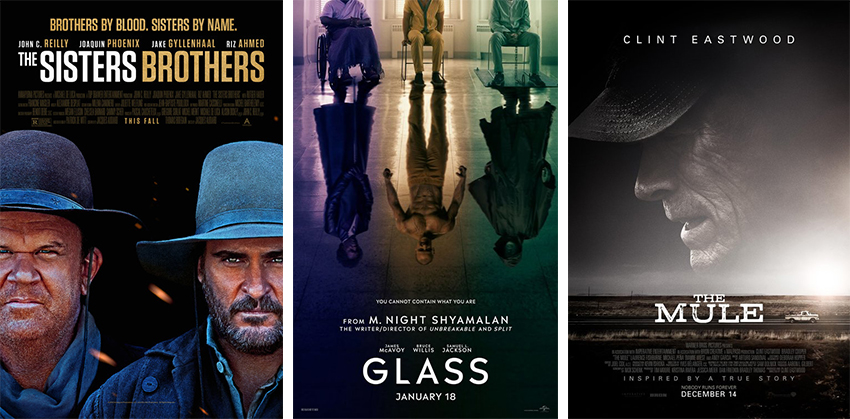 This week's new cinema releases are all about cowboys. The original silver screen cowboy Clint Eastwood, the wild west in The Sisters Brothers, and a cowboy director who should have quit while he was ahead with Glass.
---
Glass
Age restriction: 16 L V
Following the conclusion of Split, Glass finds David Dunn (Bruce Willis) pursuing Kevin Wendell Crumb's (James McAvoy) superhuman figure of The Beast in a series of escalating encounters, while the shadowy presence of Elijah Price (Samuel L. Jackson) emerges as an orchestrator who holds secrets critical to both men.
Although ambitious in concept, Glass ends up being frustratingly mundane in execution as writer/director M. Night Shyamalan wastes all the momentum of both this series and his career on a sloppy, boring treatise on the relevance of comic book mythology that all comes off very dated and doltish.
Critical Hit: 5.5/10
Rotten Tomatoes: 35% (Rotten)
Metacritic: 41 (Mixed or Average Reviews)
---
The Sisters Brothers
Age restriction: 16 D L S V
Based on Patrick Dewitt's acclaimed novel of the same name, The Sisters Brothers follows two brothers – Eli and Charlie Sisters – who are hired to kill a prospector who has stolen from their boss. The story, a genre-hybrid with comedic elements, takes place in Oregon in 1851.
Though it may be lacking the blood of a Tarantino epic or the laughs of a Mel Brooks spoof, The Sisters Brothers is a powerhouse film for human drama. Good performances and a clean script convey serious and long-lasting contemplations, depicted in beautiful of the New West.
Critical Hit: 7.5/10
Rotten Tomatoes: 85% (Certified Fresh)
Metacritic: 78 (Generally Favourable Reviews)
---
The Mule
Age restriction: 16 D L P S V
Earl Stone (Clint Eastwood) is broke, alone, and facing foreclosure of his business when he is offered a job that simply requires him to drive. Easy enough, but, unbeknownst to Earl, he's just signed on as a drug courier for a Mexican cartel. He does well—so well, in fact, that his cargo increases exponentially, and Earl is assigned a handler. But he isn't the only one keeping tabs on Earl; the mysterious new drug mule has also hit the radar of hard-charging DEA agent Colin Bates. And even as his money problems become a thing of the past, Earl's past mistakes start to weigh heavily on him, and it's uncertain if he'll have time to right those wrongs before law enforcement, or the cartel's enforcers, catch up to him.
Though amounting to a simple story with surface-level characters, The Mule is uplifted by Clint Eastwood and his film-making talents that should never be underestimated.
Critical Hit: 7/10
Rotten Tomatoes: 66% (Fresh)
Metacritic: 58 (Mixed or Average Reviews)
---
For more information about the age restrictions, click here.
Last Updated: January 18, 2019