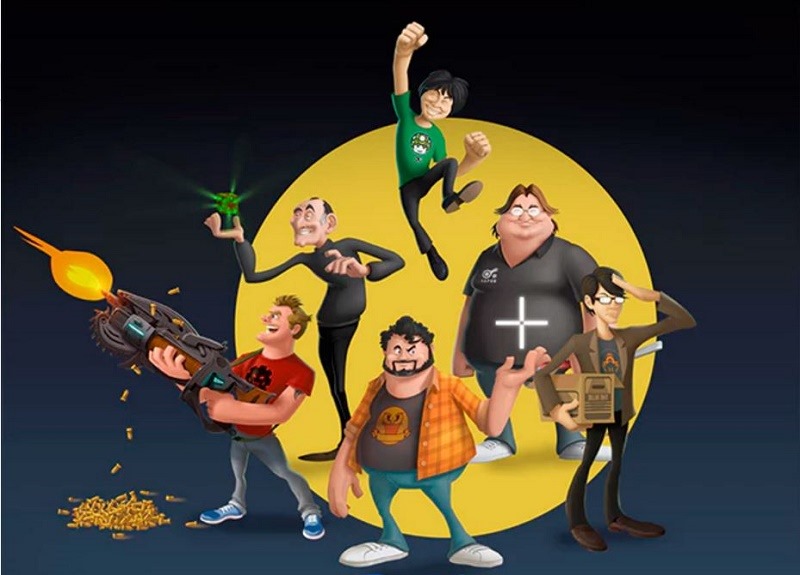 If you've ever wanted to play a game that has famous developers as the leads, look no further than Dawn of the Devs – a brand new game that's popped up on Kickstarter. It features the likenesses of Tim Schafer, Hideo Kojima, Cliff Bleszinski, and (potentially) more (via Kotaku).
Dawn of the Devs is a 2D puzzle platformer where three game industry gurus (Tom Schiffer, Biff Klozinski and Hiro Komiya) embark on an epic quest after they are drawn into theWicked World of Gaming, an alternate world where every negative aspect of the game industry has come to life thanks to the dark arts of a sinister character.

Together they'll have to combine their unique abilities while they journey through twisted lands, defeating enemies and solving puzzles to rid the World of Gaming from the menace that has risen and threatens to destroy the game industry forever.
Puzzle, action and stealth in a 2D old school platformer!
Team up and switch between characters, using their special abilities!
Journey through a wicked world of gaming!
Homage to all game developers and a nod to the game industry!
Detailed 2D art & animations!
PC Steam / GOG DRM Free
Though I'm not entirely sold on the title, I can't deny that Dawn of the Devs actually has an interesting gameplay idea behind it. You see, each developer has abilities that more or less ties into something that they're well known for.
Tim Schafer Tom Schiffer for example, has an adventure game cursor and inventory that'll let him interact with the world and store stuff respectively. Cliff Bleszinksi Biff Klozinski on the other hand, carries a weapon that can both fire and saw through enemies, while Hideo Kojima Hiro Komiya has a cardboard box that allows him to sneak about.
The team behind the project, Underdog Studios, are looking for $65,000 to get the project off the ground. If they get more however, they'll add other bonuses to their title, like additional characters. If enough money is raised, you can expect to see Milo Deveraux, Nick Gable, and Shiro Miyata. Just take a look at the header image above If you don't know who they're meant to be.
At time of writing, Dawn of the Devs has raised $7,866, and has 29 days to go. It's still early days, so it's hard to tell if it will be fully funded or not. I kinda hope it does – I'd love to see how exactly it turns out. That, and there is lots of room to add even more developer personas. Could we get Koji Igarashi Goji Rikarashi with a hat and whip please?
Last Updated: September 8, 2016