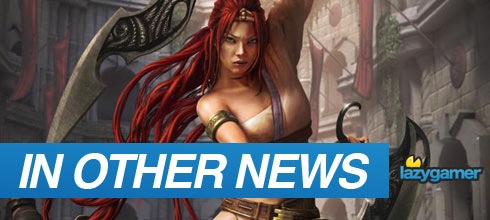 The weekend is upon us! Gamescom has provided us all with a ton of new and exciting news and in my opinion, has really gotten the hype train going on some of the major titles that are releasing over the next few months.
Gran Turismo 5, Halo Reach, F1 2010 – oh the goodness never ends, I think we are in line for a supremely awesome year of gaming.
Here's the news we didn't post because we were watching Natalia Portman kiss Mila Kunis in the totally unrelated Black Swan trailer.
Popular and noteworthy this week on Lazygamer:
Flamebait Friday Debate: Is the Xbox 360 becoming redundant?
Madden NFL 11 review
Comparing Harry Potter's Kinect Features to Move's Sorcery
Gamescom 2010: Killzone 3 Move Gameplay – Good and Bad
Fighters Uncaged – Kinect gets its own fighting game
Weighing in on The Mafia II PS3 Debacle
Gamescom 2010: MS Responds to Mass Effect 2 jumping ship
Gamescom 2010 : Mass Effect 2 Headed to PS3!
Should reviewers complete games?
Starcraft 2 Review – All your base are belong to us
Forum:
Bobby Kotick's beginners class in Manliness (KOT101 credits 4pts)
News:
New Mortal Kombat erases past mistakes
Call of Duty: Black Ops Wii details
Assassin's Creed: Brotherhood campaign is 15 hours long
Halo Reach definitely not in 3D
Stuff:
The shortest games ever
Top 10 development studios right now
10 reasons to get excited about Halo Reach
Videos:
Driver: San Francisco – New gameplay footage
Even more Gran Turismo 5 footage from Gamescom
New video shows F1 2010 damage model in action
Awesome Marvel vs Capcom 3 character trailer
F1 2010 looks way too realistic in the wet
Last Updated: August 20, 2010