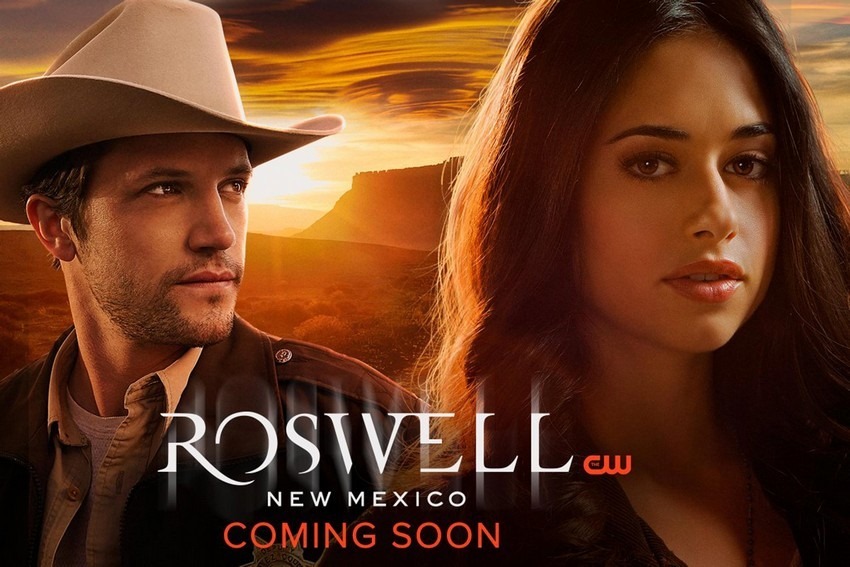 In case you didn't realize it, A LOT of stuff was shown off at San Diego Comic-Con this weekend past. With things like the first trailers for Shazam!, Aquaman, Godzilla: King of Monsters, the return of Star Wars: Clone Wars, M. Night Shyamalan's Glass, Star Trek Discovery season 2, the return of Invader Zim, and more, I would say it's perfectly understandable if something flew under the radar. In this case, one trailer flew under the radar like a weather balloon. Yes, a weather balloon and definitely not an alien spaceship no matter what you think you saw. Definitely a weather balloon.
Yes, I'm talking about the upcoming reboot of Roswell, the late 1990s/early 2000s cult favourite teen drama that followed a high-school girl who found out that her crush and his friends are actually extraterrestrial royalty that infamously crashed down in Roswell, New Mexico years ago and have been hiding out on Earth ever since. The show made stars of the likes of Shiri Appleby, Katherine Heigl and Colin Hanks and launched the career of Dido thanks to her haunting theme song, but that wasn't enough to save it from cancellation after 3 seasons.
Now The CW is bringing sexy Roswell back, and as we previously learned this new iteration is changing things up a bit by adding some controversial and topical real-world commentary on illegal immigration in America, with our lead now being the daughter of undocumented migrants while her old crush (still secretly an alien) has grown up to become the local law who has to patrol the borders. According to the official blurb, the show would have to deal with things like "the politics of fear and hatred". Except, you won't get any of that from the first trailer for Roswell that dropped over the weekend at SDCC though, as it's pretty much all soapy teen drama and romance from start to finish in this preview, and with the characters now having been aged upwards, it suddenly feels a lot more cheesy than it used to.
Oh and the show is now officially titled "Roswell, New Mexico" because I guess the folks in Roswell, Idaho or Roswell, South Dakota or Roswell, Colorado, or Roswell, Ohio, or Roswell, Georgia (Seriously, America?!) were getting annoyed by wayward fans showing up wanting to find the location of the Crashdown Cafe where Max first healed Liz. Anyway, geographically specific titles aside, check out the preview below.
Roswell, New Mexico is also based on Melinda Metz's Roswell High series of books and stars Nathan Parsons (True Blood), Lily Cowles (Brain Dead), Michael Vlamis (Vlam Carter), Heather Hemmens (Hellcats), and Tyler Blackburn (Pretty Little Liars). It currently doesn't have an exact release date but is expected to premiere in early-to-mid 2019.
Last Updated: July 26, 2018