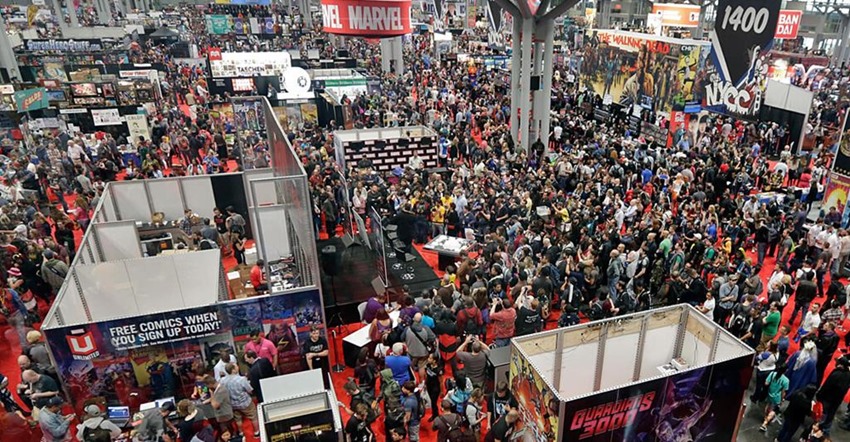 SDCC! It's not the name of a sexually transmitted virus that may have origins in the backstage area of a legendary Australian rock 'n roll group, but rather the initials of the greatest annual event in pop culture history: The San Diego Comic Con. While Kervyn and I were unfortunately stuck at Darryn-Con (Live, from my Port Elizabeth garage! NO FLASH PHOTOGRAPHY PLEASE!), we did still manage to crack out a few articles during autograph sessions that saw nones of people rock up.
And what a weekend it was! Disney shot themselves in the foot when they fired a beloved director after being spurred on by a Nazi, the Arrowverse grew even wackier than ever and DC had trailers aplenty as they began to refocus their efforts not only on making movies, but making films that actually look good.
In case you missed it, here's a handy round-up of all the content that was pumped out:
SDCC: BUY BUY BUY! Overwatch's Reaper finally gets a Nerf gun replica
SDCC: Meet a caped crusader who loves guns in the upcoming Batman Who Laughs mini-series
SDCC: The Orville establishes first contact in season 2 trailer
SDCC: First trailer for The Dragon Prince, the new animated show from Avatar: The Last Airbender team
SDCC: New trailer for The Purge TV series ups the mayhem and terror
SDCC: Fantastic Beasts: The Crimes of Grindelwald trailer introduces a surprise Harry Potter character
SDCC: Kara's getting a costume upgrade in this season 4 trailer for Supergirl
SDCC: There's no escape for Ollie in this season 7 trailer for Arrow
SDCC: The Flash season 5 trailer is a weird family reunion
SDCC: Director Patty Jenkins says Wonder Woman 1984 is not a sequel, explains '80s setting
SDCC: The first trailer for Aquaman was born to rule the seven seas
SDCC: Lightning strikes in this first look at Shazam!
SDCC: Extinction has begun in this first trailer for Godzilla: King of the Monsters
SDCC: The Walking Dead season 9 trailer introduces a new world with new rules
SDCC: Scary monsters and super creeps aplenty in this new season 7 trailer for The Venture Bros
SDCC: Get ready for a middle-aged Peter Parker and more in Spider-Man: Into the Spider-Verse
SDCC: The team is back in action in this first trailer for Young Justice: Outsiders
SDCC: First Iron Fist season 2 trailer reveals release date; Alice Eve confirmed to play Typhoid Mary
SDCC: Earth is under attack in this first trailer for Voltron: Legendary Defender season 7, season 8 will end the series
SDCC: Invader Zim is finally returning to TV, watch the first trailer here!
SDCC: Batman: Hush is getting an animated movie adaptation
SDCC: The first trailer for M. Night Shyamalan's Glass is here to shatter your expectations
SDCC: Dragon Ball Super: Broly gets a new English dub trailer
SDCC: Star Wars: The Clone Wars is coming back with brand new episodes!
SDCC: Star Trek Discovery's first trailer for season 2 looks fantastic!
What will next year bring to the San Diego Comic Con? How many retweets until Kervyn and I can finally fly last class to the fabled city of Hall H and experience the convention on the ground floor? Dammit, probably a lot.
Last Updated: July 26, 2018