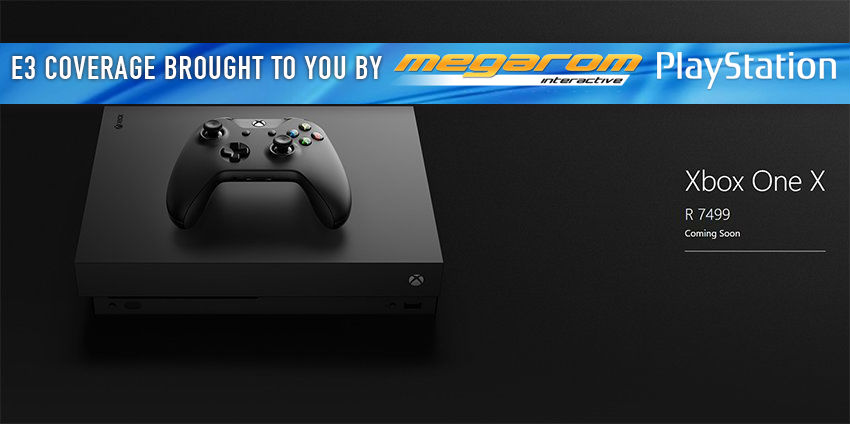 Xbox has been talking about Project Scorpio for so long, we knew it was going to be the focus of their E3 conference. But seeing as it ran last night at 11pm South African time, there was no way I could stay up and watch. Thankfully, Darryn did a tonne of live coverage for us. So, if you were asleep when Xbox took to the E3 stage, fear not – here is everything you might have missed, including tons of info about what we now know is called Xbox One X. First though, games!
Forza is a major part of the Xbox stable, so it makes sense that they'd kick off the show with some of that sweet vroom vroom action. Porsche has signed a six-year deal with Forza, which means we can expect a tonne of beautiful 911s in the next instalment of the franchise. Here is the official trailer.
I loved reading the Metro books, so I really need to play these games. Metro Exodus seems to take a new approach to the franchise as players won't even be in said underground bunkers of the series' name. Instead, players will need to escape Russia, killing whatever mutated and irradiated creatures stand in their way. Here is the reveal video.
I have missed my annual assassin gameplay. I might be in a minority, but Assassin's Creed has been a favourite franchise for years now, and I always looked forward to the latest installment. The series is back this year as rumoured, and the rumours were correct – this game will take place in Egypt. It also looks absolutely stunning.
Whenever you turn on Twitch or any other streaming program, it seems that the most popular game bar none is Battlegrounds. I guess it makes sense, then that this PC exclusive is exclusive no longer – it's coming to Xbox One later this year.
Did you think the zombie apocalypse was really over? I sorta did, to be honest. I mean, sure zombies were all the rage a few years ago, but surely we're over that now, right? Well, not exactly, as State of Decay 2 proves in this depressing and challenging trailer. Also, why are we always in the South of the US for these things?
Minecraft is like digital LEGO, right? I mean, it's all about taking blocks and building things, not so much about how the game looks. Well, obviously looks do matter, and the game is about to look a whole lot prettier thanks to a 4K texture pack.
So many smaller but beautiful games are coming
Dragon Ball Z is getting a new game:
Then there's a cartoonish competitive survival game called The Darwin Project, and Black Desert, an MMO, is making its console debut on Xbox One. The Artful Escape and The Last Night are a couple artsy exclusive games that look rather pretty, too – here are those 4K trailers:
Code Vein will scratch some fans' anime vampires itch. While Tacoma, the next game from the team that made Gone Home is coming August 2nd. But more importantly, Cuphead finally has a release date! It's coming out 29 September. Oh, and here is a montage of all the other ID@Xbox games that are incoming.
Ashen is reminding me a lot of Dark Souls – not so much in animation style, but in voice over and general feel of the game. Meanwhile, Life is Strange is getting a prequel after all; Life is Strange: Before the Storm is a three-part prequel that begins on August 31st. And then there's Super Lucky's Tale for those who are still interested in that.
Sea of Thieves looked pretty but odd last year, although Matty and Sandy raved about it. This year it's back and more beautiful than ever. Ahoy!
Prepare yourself for the insanity of this trailer. Even Darryn thought it was mental, which should tell you something.
The Orcs in Shadow of War look amazing
I have been desperate for more info about Shadow of War. and this video absolutely delivered. I am far too excited to take over all the fortresses, but also get to know these different Orc personalities. I like that they're sassy, sarcastic and was more nuanced this time. I need this game, like right now!
Ori and the Blind Forest was one of the all-time best games released on the Xbox One, and fans are finally getting what they wanted – a sequel. With yet another soundtrack that is poised to bring me to tears, and a story that will probably do the same, here is the teaser trailer:
We all know they had to close the show with their big guns, and while I would have been happy with the one-two punch of Shadow of War and Ori and the Will of the Wisps, obviously they had to take things to the next level. So here is Bioware's all new game, Anthem in action:
Of course you're probably wondering all about the Xbox One X, too. Well, it's releasing 7 November, hopefully with worldwide release instead of South Africa getting it a few months late. It will retail for $499, and local retailers have it listed at R7 499. But with all those beautiful games shown off in 4K, it makes sense that people will need to pay for the graphical upgrade. Oh, and if you're still pining for your old Xbox games, they're also getting added to backwards compatibility. Good guy Xbox!
Need more E3 in your life?
Check out our E3 2017 portal powered by Megarom Games and PlayStation
Last Updated: June 12, 2017