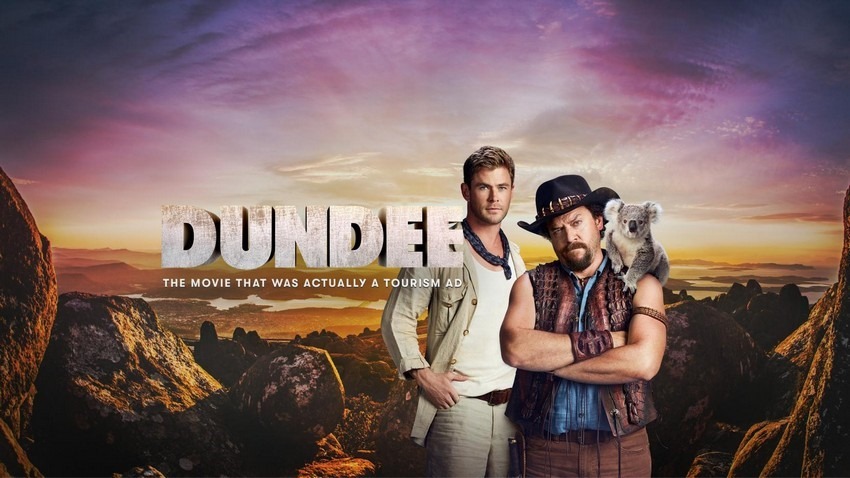 We had a lot of big news that came out of this weekend past's Super Bowl – two trailers for Solo: A Star Wars Story, a trailer for Mission: Impossible – Fallout, the next Cloverfield movie being available immediately on Netflix, the much-anticipated Westworld season 2 getting its first trailer and release date, a second look at Jurassic World: Fallen Kingdom, the first showing of Dwayne "The Rock" Johnson's Skyscraper, and a new preview of the creepy-as-hell looking A Quiet Place. And with all that hubbub we seemingly forgot about the one movie that kick-started this year's Super Bowl trailer buzz. You know, the movie that isn't actually a movie. Dundee: The Son of a Legend Returns.
It didn't take long after the first teaser trailer for Dundee to suddenly drop out of nowhere for folks to piece together that this was actually just an elaborate campaign by Tourism Australia making use of arguably their most famous cinematic export in the Crocodile Dundee movies from the 1980s'. They pulled out all the stops, roping in fan-favourite funnyman Danny McBride to play the estranged bumbling son of Paul Hogan's legendary Aussie outdoorsman, and Tourism Australia ambassador – and god of thunder – Chris Hemsworth as the son of another legacy character. The star power didn't stop there though, as a who's-who of Australian superstars all lent their voices to more "trailers" even though the jig was already up.
And at this weekend's Super Bowl, which had been previously reported would be the culmination of this marketing stunt, Brian Dundee himself finally came clean as McBride admitted that this was not a movie. It was a rather nice advertisement for the Land Down Under though, complete with its very own promotional website that explained it all.
The greatest name in the outback is back in the outback! Only this time, Dundee isn't a Hollywood movie. It's a giant tourism ad for Australia.

Thirty years after Crocodile Dundee first introduced the world to the land down under, Chris Hemsworth and Danny McBride bring the iconic Aussie franchise back as they embark on the trip of a lifetime. And while the film's plot may not be real, Danny's adventure through Australia's outback, white sand beaches, gorgeous wineries and bustling cities are what truly await every visitor.

Come soon, mates. There's nothing like Australia
This is apparently not the end of McBride and Hemsworth's Dundee adventures though as THR reports that "Over the next two years, there will be close to 150 pieces of content for the campaign that will feature McBride interacting with other Australian celebrities, such as crocodile wrangler Matt Wright, singer-actress Jessica Mauboy, and celebrity chef Curtis Stone."
That still may not be enough for some fans though. It turns out that response to this whole campaign has been so positive that petitions have sprung up asking to really make this happen. Now we all know that online petitions are about as useful as a waterproof towel, but I'll admit that I wouldn't mind seeing these two actors bring the world of Dundee to the big screens again for real. Hemsworth has proven himself to be a gifted straight-man comedian, and that would balance out McBride's goofball-ness perfectly. What do you guys say? Make this a real movie or stick to the tourism ads?
Last Updated: February 6, 2018